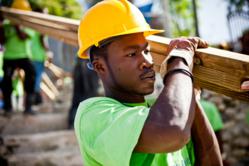 "The completion of this project marks a new beginning for the people of Ravine Pintade," said U.S. Ambassador to Haiti Kenneth H. Merten.
Port-Au-Prince, Haiti (PRWEB) May 30, 2012
PCI, in partnership with CHF, concludes two years of rebuilding the Port-Au-Prince neighborhood of Ravine Pintade, greatly damaged by the 2010 earthquake. With technical input and funding from the U.S. Agency for International Development's Office of U.S. Foreign Disaster Assistance (USAID/OFDA), CHF and PCI supported local residents in designing and rebuilding a healthier, safer, and more nurturing community. Teams cleared rubble, rebuilt homes and roads, constructed sanitation infrastructure, and increased access to health care, while redesigning public spaces for better safety, access, and resiliency against future disasters. "The completion of this project marks a new beginning for the people of Ravine Pintade," said U.S. Ambassador to Haiti Kenneth H. Merten. "The KATYE project was much more than removing tons of rubble, repairing or building shelters, and providing clean water and other basic infrastructure. Working alongside the people who live in the community, we rebuilt a neighborhood."
An innovative approach to urban disaster response, KATYE, which means "neighborhood" in the Haitian Creole language, combined emergency assistance with collaborative and in-depth long-term planning in an effort to not only meet immediate needs, but to address underlying trends associated with vulnerability and lay a foundation for long-term stability and economic growth. Over the course of the project, the Ravine Pintade area was transformed from an informal neighborhood to a more formal entity, with committees for self-governance linked with municipal authorities, to ensure provision of services and maintenance of infrastructure. PCI and its partners worked with the local community to create pragmatic solutions to land tenure problems, improve urban planning, improve primary health care, and mobilize community members to create safer, more nurturing environments for children and youth. Over 170 Ravine Pintade residents redrew their private land boundaries to allow for public spaces and access paths for improved safety and stability. This comprehensive neighborhood approach required complex coordination of residents' knowledge and needs, while building trust and consensus among all stakeholders.
"As the U.S. government's long-term commitment to helping the people of Haiti build a better future continues, other neighborhood rehabilitation and reconstruction projects in Port-au-Prince can look to the KATYE project as a model for rebuilding communities on a sounder footing, " excerpted from the USAID summary report, May 15, 2012.
Other key KATYE results include:

Removed 35,000 cubic meters of rubble
Repaired or constructed shelter for 620 households
Enabled the return of nearly 1,930 displaced persons through the provision of shelter
Provided an economic stimulus of $537,467 dollars and livelihood support to 2,311 individuals in the community
Laid the foundation for the reconstruction of a more formalized community; every resident is enumerated/mapped, every household has a signed contract documenting their rights to the property, and every shelter and pathway is mapped
Improved water quality, reducing the percent of households reliant on contaminated water from 37% to 1%
Reduced the cost families pay for water by nearly 50% through a community-managed water system
Introduced large scale use of household rain water harvesting systems
Improved hygiene practices, delivering extensive community and household hygiene and sanitation education to nearly all households (96.0%)
Reintegrated children into the school system, with school enrollment rates increasing from 46% to 87%
The KATYE program was made possible by the generous support of the American people through the United States Agency for International Development (USAID). The contents of this press release are the responsibility of PCI and do not necessarily reflect the views of USAID or the United States Government.
Celebrating its 50th anniversary in 2011, PCI (Project Concern International) is an international health, development and humanitarian assistance organization, operating in 16 countries worldwide. PCI is dedicated to saving lives and building healthy communities around the globe, benefitting over 6.7 million people annually in Asia, Africa and the Americas. Funded by federal grants and private support, PCI's current annual budget is nearly $50 million and the organization has 600 employees worldwide. PCI's headquarters are located in San Diego, CA and also has an office in Washington, DC and a Seattle, WA representative.