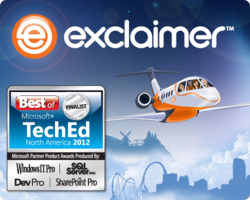 It shows how important email signatures have become
(PRWEB UK) 30 May 2012
TechEd North America has nominated the Exchange signature management software Exclaimer Mail Disclaimers for Best of TechEd, Exclaimer announced today.
"These awards have gone to Oracle, Microsoft and HP products in previous years," Neal Stanborough, Exclaimer marketing manager, detailed, "I think it shows how important email signatures have become.
"Applying branding to everything from business cards to corporate headquarters has become a necessity – even on email. Companies can't afford to look amateur on something that might be seen thousands of times a day.
"We wanted to turn what was a chore for IT and an embarrassment for marketing into something sharp, crisp and cutting edge – and I think TechEd appreciates that."
Their Exchange signature software lets an admin control every staff signature centrally, they explain, even on mail from smartphones and OWA.
A heightened emphasis on social media in email signatures – 'Follow' links and statuses beside contact details – might be behind the mounting interest in signature software, they suggest.
Exclaimer Mail Disclaimers is one of ten products shortlisted for the Messaging and UC Content category – but only one will be named 'The Best of TechEd' on June 14th.
"It's an honor to be counted among some of the most respected and widely used tools in the world," admitted Andrew Millington, Exclaimer CEO.
"37 million users worldwide trust Exclaimer software: now we have to show TechEd why they do – on stand 2138 at TechEd North America and 13 at TechEd Europe."