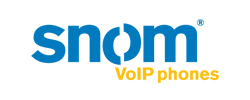 "By enrolling in our SIP 101 e-learning course VARs from around the world can learn fundamental SIP basics online and on their own time."
- Mike Storella, chief operating officer, snom technology, Inc.
Woburn, MA (PRWEB) May 31, 2012
snom technology Inc., a leading developer of IP desktop phones and IP communications solutions, today announced a new e-learning course focused on Session Initiation Protocol (SIP) fundamentals – SIP 101. This course is the latest addition to snom's new online training program introduced earlier this spring and is available free to registered snom VARs from North and South America, Australia and New Zealand. SIP 101 will serve as a prerequisite to enrollment in the company's online snom ONE Certification Training course.
Busy VARs can gain valuable, hands-on experience with all aspects of SIP, without the time and expense of traditional courses. "By enrolling in our SIP 101 e-learning course VARs from around the world can learn fundamental SIP basics online and on their own time. This course is a prerequisite first step for VARs on the path to our snom ONE Certification Training and new business opportunities created by working with the snom ONE family of IP PBX solutions," said Mike Storella, chief operating officer of snom technology, Inc.
The SIP 101 course is a modularized, online, Flash-based training course, complete with animations and quizzes to help engage trainees. Participants can complete an online assessment upon course completion to earn snom SIP 101 certification.
Eligibility for the SIP 101 certification class is open to registered snom VARs in the Americas, Australia and New Zealand who can register quickly and easily at onlinetraining.snom.com. snom will be offering more online courses about snom products and key aspects of its SIP-based technology in the coming months.
Resellers interested in becoming a snom VAR can register here.
To learn more about snom's channel activities in the Americas, go to http://www.snomchannel.com; follow us on Twitter; like us on Facebook; or join our LinkedIn group.
About snom
snom technology AG develops and manufactures VoIP telephones and related equipment based on the IETF open standard, SIP (Session Initiation Protocol). Recognized for its high-quality, customizable, and cost-effective business solutions, snom is also differentiated by the company's history in the VoIP industry and its dedication to high security standards. All of snom's products, from desktop phones to IP PBXs, are designed to be fully interoperable with leading communications equipment vendors. snom customers benefit from the interoperability and flexibility that the snom telephones offer, including plug-and-play integration and universal compatibility with any SIP-based telephony platform. In September 2011, the snom 300 and the snom 821 were the first SIP phones to be officially tested and qualified as interoperable with Microsoft Lync™ by Microsoft.
Founded in 1996 and headquartered in Berlin, Germany, snom technology AG also has offices in Italy, France, the United Kingdom, and the U.S. For more information on snom, please visit http://www.snom.com.