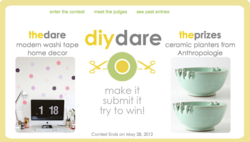 The creativity in the DIY space is just astounding, and we want to embrace this and challenge our readers to show what they can do and get rewarded for it!
Los Angeles, CA (PRWEB) May 31, 2012
Dotcoms For Moms (DFM), a lifestyle site for today's contemporary mom, has developed a monthly DIY Dare contest to challenge crafters and DIY'ers to submit their best work in a particular category to win prizes. One winner will be chosen each month for a prize. To keep the contest fresh, Dotcoms For Moms will launch an entirely new contest every month with a new challenge.
Beginning in March 2012, Dotcoms For Moms saw an increase in traffic specifically related to their DIY projects and round-ups. "We are crafters and DIY lovers at heart, so this is a natural progression for DFM" says Rita Mauceri, President and Founder of Dotcoms For Moms. DIY is a huge a market and encompasses everything from simple craft projects to backyard makeovers, and DFM is here to find the best of the DIY web for their readers.
DIY Dare will allow readers to enter the contest with three easy steps: add your contact information, project title, and upload an image of your project. That is all it takes to be entered to win great prizes from retailers like Anthropologie, West Elm, Crate and Barrel and other Dotcoms For Moms' favorites. Visitors to DFM will be able to browse through entries and see how different DIY'ers are putting their own unique spins on the challenge.
Rachel Faucett from Handmade Charlotte and other well-known craft bloggers will be on board to help judge the contests and pick a winner each month.
About Dotcoms For Moms
Inspired by her own busy life as a mother to three children (twin boys followed a year later by a girl,) award-winning television producer, author and lifestyle expert Rita Mauceri launched Dotcoms For Moms™ in January 2011 to provide moms a solution to the challenge they face online: keeping track of the gems and weeding out all the junk found in a typical online search. With the launch of Dotcoms For Moms™, Mauceri draws on her more than 15 years of experience in entertainment and women's lifestyle to create the ultimate online destination for moms of all ages with children of all ages. For more information on Dotcoms For Moms, please visit http://www.dotcomsformoms.com
A veteran television producer of top-rated entertainment and lifestyle programming at E!, Discovery, Travel Channel, TLC, and HGTV, Mauceri is a published author of two style books, "Frumpy to Foxy in 15 Minutes Flat" and "Curves Rules and Flat is Fabulous: Sexy, Stylish Looks for Every Figure," and is best known online for her highly-read weekly entertaining and style columns on Yahoo!, Foxy Festivities and The Foxy Life