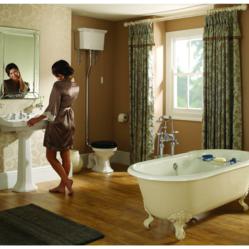 We are delighted that we can represent it at our showroom and our website. It is a quality designed product with standout features, and we are sure it will be a stunner for our consumers
Leicester, Leicester Shire (PRWEB) May 31, 2012
QS Supplies are one of the leading bathroom and plumbing products supplier in UK. QS Supplies revealed on 28th of May, 2012 that Heritage Bathroom products are now live on their web-store. Consumers can look at their web-store, to know more about pricing and options of Heritage Bathroom products.
Heritage Bathroom who is the master in sanitary ware offers traditional and modern style bathroom wares. Heritage Bathroom was established in UK, in the year 1985. Based in Bristol, Heritage Bathrooms offers a vast range of showers and sanitary ware to consumers. With an experience, of more than 2 decades, Heritage Bathrooms have always manufactured product that are more user friendly and easy to use. Team at Heritage spent a long time to develop a master piece sanitary ware for bathrooms, which offers optimum comfort at a budget price.
"Bathroom is a place where it all starts with relaxation and getting refresh and rejuvenated. Glowing after a bath or a shower makes one confident. Bathrooms with the right products are creative expression of yourself. It can make you feel more comfortable and make your room more creative and an enjoyable place. Heritage Bathrooms are pioneer in making creative and innovative products, and we at QS Supplies are proud to showcase Heritage products. Bathroom Products from Heritage are dazzling on our website, and sanitary wares from Heritage Bathrooms have offered a new oomph factor to our web-store. Every product from Heritage Bathrooms has been manufactured with detailing and compliments any type of bathroom décor. After having a look at Heritage products, one would definitely become besotted with it, "said Mr. Shafiq Member at QS Supplies.
Heritage Bathrooms offers an array of sanitary ware and brassware series which includes

Belmonte
Dorchester
Granley
Granley Deco
Rhyland
Vermonte and many more.
"Heritage is a well known brand in Europe but has never been available with QS Supplies. We are now delighted that we can represent it at our showroom and our website. It is a quality designed product with standout features, and we are sure it will be a stunner for our consumers", added Mr. Taf at QS Supplies.
In April, 2012 Heritage Bathrooms relaunched their website along with their brochures, which include high quality lifestyle images and easy to follow product information. Mr. Kaouther Montacer Shilvock, marketing manager of Heritage Bathrooms invested heavily in photography and brochures, which gave their products a new life in their brochures, and also created a huge demand in the consumer market.
QS Supplies are an on-line and in-store supplier of bathroom and plumbing products. QS Supplies launched their web-store in 2006. Based in Leicester, QS Supplies would soon open its bathroom outlets all over UK and Europe. Apart from Heritage Bathrooms QS Supplies also offer bathroom products from Duravit and Twyford. For more information about QS Supplies log on to http://www.qsssupplies.co.uk