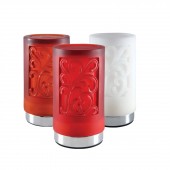 Our candle holders are excellent solutions for enhancing an interior or exterior space.
Bloomington, MN (PRWEB) May 31, 2012
LED flameless candle distributor Smart Candle announces that its product line now includes candle holders for rechargeable votives. Smart Candle's exclusive line of candle holders fit both diverse lifestyles and commercial interior-design themes. Customers can choose from a wide range of holders in various styles, colors, and sizes.
Smart Candle offers wax, café frosted, covered, and Hollowick candle holder designs. Smart Candle's wax candle holders are made of 100% paraffin wax. Wax candle holders are designed with a drilled-out ledge to fit rechargeable votive candles. Café-frosted glass holders, in contrast, feature a minimalistic design and capably accommodate battery votive candles.
Covered holders, meanwhile, are Smart Candle's most intricate design, creating the illusion of realistic candlelight with rechargeable votive candles. Covered holders include acanthus, ventil, and egg styles. Smart Candle's Hollowick holders feature a durable design that is suitable for both the food service and hospitality industries. Hollowick holders are available in various styles, including porcelain cylinders with white bubbles or ferns, glass jewel cylinders, and solid onyx cylinders in honeyed hues.
"Our candle holders are excellent solutions for enhancing an interior or exterior space," says Smart Candle representative Josh Kutzler. "Our Hollowick jeweled horizontal rib block lamps in gold, translucent, and red look beautiful during evening ceremonies and wedding receptions. You can create natural-looking candlelight for any outdoor event by placing battery votive candles in our weather-resistant, ventil-covered holders."
Smart Candle holders are available in various price ranges. Candle holder selections can complement all types of residential and commercial décor, including classic, contemporary, and elegant themes. Customers can visit http://www.smartcandle.com for more information about Smart Candle's rechargeable votive candles and candle holders.
About Smart Candle:
Smart Candle is a global flameless candle distributor in Bloomington, MN, that specializes in Light-Emitting Diode (LED) flameless candles and lighting systems for residential, commercial, event, and devotional purposes. Smart Candle's eco-friendly and innovative products reduce fire hazards and toxic emissions. Smart Candle battery-operated and flameless candle selections include votives, Hokare lamps, scented jars, tea lights, wax pillars, and devotional votive candle stands.