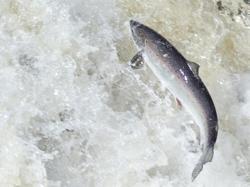 "Up for negotiation," said Sue Scott, VP of Communications for the Atlantic Salmon Federation (ASF), "is a quota on Greenland's commercial fishery that harvests wild Atlantic salmon from North America's rivers."
St. Andrews, NB Canada (PRWEB) May 31, 2012
The outcomes of the annual meeting of the North Atlantic Salmon Conservation Organization (NASCO) to be held in Edinburgh, Scotland from June 3 to 8, have the ability to make or break the beginnings of wild Atlantic salmon restoration in North America. "Up for negotiation," said Sue Scott, VP of Communications for the Atlantic Salmon Federation (ASF), "is a quota on Greenland's commercial fishery that harvests wild Atlantic salmon from North America's rivers."
ASF, along with 34 other non-government organizations from North America and Europe, will urge NASCO to heed scientific advice and implement another three-year agreement for a zero quota on Greenland's commercial salmon fishery. Scientific advice from the International Council for the Exploration of the Sea (ICES) is that there is no option for a fishery in Greenland in the next three years that would allow the number of large Atlantic salmon returning to North American rivers to reach their minimum overall conservation limit. Although ICES scientists did predict that large salmon returns will continue to increase over the next three years, their numbers will not increase enough to sustain a harvest at Greenland.
The 2011 returns to North America were the best of the past two decades for both grilse (salmon that spend only one winter at sea) and large salmon that travel to distant Greenland feeding grounds. These increases are the first indicators that large salmon are beginning to move out of a critical danger zone that reached an all-time low in 2001. Upturns in grilse numbers in 2011 approached 700,000, closer to the good runs of the past, when they peaked at 900,000 in 1981.
An important factor in the improved runs of large salmon has been a suspension of Greenland's commercial salmon fishery. NASCO has been successful in negotiating a zero commercial quota for this fishery since 2003. The NASCO agreement is reinforced by a private sector agreement among ASF, the North Atlantic Salmon Fund of Iceland and Greenland fishermen. This agreement has been in place since 2002 and provides funding to engage Greenland fishermen in employment opportunities that are an alternative to salmon fishing.
"Negotiating a zero harvest at Greenland for the next three years requires leadership from other Parties to NASCO, including Canada," said Ms. Scott. Greenland wants to be treated fairly at NASCO, and points to other countries that have substantial salmon fisheries in their own jurisdictions. Last year, Greenland's fishermen demonstrated at NASCO's meeting that was held in Illulissat, demanding a commercial fishery. They are seeing more salmon and argue that other Parties are still killing far more than they kill.
Canada's total harvest amounted to 179 tonnes (13.668 large salmon and 63,851 grilse) in 2011, an increase from 153 tonnes in 2010. Greenland harvested 28 tonnes (6,800 salmon) in its internal use or subsistence fishery in 2011, a decrease from 43 tonnes in 2010. "Except for mixed-population fisheries off Labrador, the intent in Canada is to restrict harvest to salmon populations that meet minimum conservation limits, while the Greenland fishery is totally a mixed-stock fishery. Because salmon from many rivers are mixing in feeding grounds off Greenland, it is impossible to restrict harvest to healthy stocks, such as those of the Miramichi. The stocks that are endangered or threatened, such as those from Maine, southern Newfoundland, and the Atlantic coast of Nova Scotia are also vulnerable to harvest at Greenland," concluded Ms. Scott.
The Atlantic Salmon Federation is dedicated to the conservation, protection and restoration of wild Atlantic salmon and the ecosystems on which their well being and survival depend.
ASF has a network of seven regional councils (New Brunswick, Nova Scotia, Newfoundland and Labrador, Prince Edward Island, Quebec, Maine and Western New England). The regional councils cover the freshwater range of the Atlantic salmon in Canada and the United
States.
NASCO is similar to a United Nations of wild Atlantic salmon, comprised of countries that have a population of the species spawning in their rivers and/or migrating through their jurisdictions. These signatory nations are Canada, the United States, Norway, Denmark representing Greenland and Faroe Islands, the European Union, and the Russian Federation. At the annual NASCO conferences, these nations are represented by their federal governments for agreement negotiations and resolutions to conserve and restore wild salmon populations across the North Atlantic.
-30-
ASF Contact: Muriel Ferguson, Communications 506 529-1033 or 506 529-4581