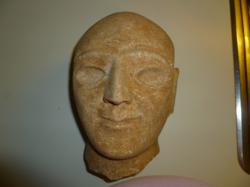 Washington, D.C. (PRWEB) May 30, 2012
Seldom does ancient history meet charitable causes in the realm of an online charity auction on eBay quite like this.
From May 28 through June 7, 2012, a rare piece of history will be available to bid upon. This life-sized stone Sumerian head with a fine patina—one of only a handful of statuary Sumerian heads of this size known to exist–was recently authenticated and appraised at $3,500,000. The item can be seen now at http://sumerianheadauction.com.
Ten percent of the proceeds from the sale will benefit Team Rubicon, a nonprofit uniting the skills and experiences of military veterans with medical professionals to rapidly deploy emergency response teams into crisis situations.
"Team Rubicon is grateful for the opportunity to be the recipient of a portion of the proceeds of such a rare piece of history. The funds will be put to good use assisting veterans in utilizing their skills and experiences in the aftermath of natural disasters," said Jake Wood, Team Rubicon President and Co-Founder.
This Sumerian head is from the Third Dynasty of Ur, which existed from 21st to 20th century B.C.
This unique piece has a bald head and with large wide-set eyes that were recessed to receive inlays. The eyebrows have also been recessed for inlays and form a fine arch that meets on the bridge of the nose. The head has a prominent nose and a wide, straight mouth that tilts upwards at the side to suggest a slight smile and well-carved ears that are indicative of the period. The owner of the Sumerian head, George Kazan, has kept the piece in his family's private collection for more than 40 years. This is the first time it has ever been offered for sale.
"We believe this truly rare piece of antiquity represents one of the finest pieces ever listed on eBay", said Eric Gazin, President of Auction Cause, the agency managing the listing. "With the demand for authentic, conflict free, museum quality items rising, this Sumerian head will be a showpiece for the winning bidder", Gazin added.
For more information on the piece, or to join in on the bidding, visit http://sumerianheadauction.com
About Team Rubicon
Team Rubicon (TR) unites the skills and experience of military veterans with medical professionals to rapidly deploy emergency response teams into crisis situations. TR offers veterans a chance to continue their service by helping and empowering those afflicted by disasters, and also themselves. For more about Team Rubicon, visit http://www.teamrubiconusa.org.
About Auction Cause
Auction Cause is the leader in high profile and high value auctions as well as cause marketing campaigns, branding, and fundraising utilizing the eBay platform.
For qualified members of the media interested in interviews or viewing the Sumerian Head:
Eric Gazin
President of Auction Cause
(323) 655-0554
eric at auction cause dot com
http://www.auctioncause.com
Team Rubicon Media Contact:
Kristin Robinson
(913) 568-8043
robinson(at)teamrubiconusa(dot)org
###