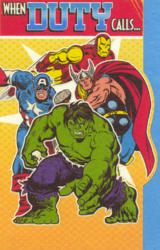 "What better time than Father's Day to let dads everywhere know how much they mean to you," said Meredith Fraley, Hallmark Licensing.
Kansas City, MO (PRWEB) May 31, 2012
With movie goers assembling in masses to witness the Super Hero team-up of a lifetime, remind Dad that he is your favorite super hero this Father's Day with Hallmark greeting cards and products featuring popular Super Heroes, including Marvel's The Avengers™.
"What better time than Father's Day to let dads everywhere know how much they mean to you," said Meredith Fraley, Hallmark Licensing. "And how much you appreciate the heroic acts they've performed throughout your lifetime."
"We are excited about the incredible product created for Avenger and super hero fans," she added.
Dominating U.S. box offices, Marvel's The Avengers™ has surpassed all records to become one of the top grossing movies of the year. Consumers can bring the excitement home to dads, grandpas and other important men in their life this Father's Day with the likes of Thor™, Captain America™, Iron Man™ and the Hulk™.
Available at Hallmark Gold Crown Stores and at Walmart, a card from the new 'He's My Hero' Father's Day greeting card collection can serve as a reminder that the men in the family are Super Heroes. Dads and grandpas will love these cool and clever designs featuring popular licensed properties.
Cast Dad alongside Thor™ or Captain America™ at the family's Father's Day celebration with Hallmark's Personalized Party Plates. The nine-inch plates can be personalized in three different configurations: photo only, text only, or photo and text for $12 per package of 10. Once the design is finished, Hallmark prints the plates and ships them in about a week. Visit Hallmark.com for the complete range of Super Hero designs available.
And looking ahead to Christmas, consumers can add three of their favorite Marvel's The Avengers™ heroes to this year's Christmas tree with the latest Hallmark Keepsake Ornaments. Thor™ and Iron Man™ are both set to arrive in Hallmark Gold Crown Stores in July, and Captain America™ will join the gang in October. All three ornaments are $14.95 each and include bases that assemble together to create The Avengers™ logo.
All things Super Hero are available at Hallmark Gold Crown® stores and select Hallmark retailers nationwide. Use the store locator on Hallmark.com to find the nearest Hallmark Gold Crown store.
About Hallmark Cards, Inc.
Hallmark makes the world a more caring place by helping people express what's in their hearts and spend time together — a privilege few other companies in the world enjoy. Hallmark greeting cards and other products are found in more than 38,000 retail outlets in the United States, including the network of flagship Hallmark Gold Crown® stores. The brand also reaches people online at Hallmark.com and on television through Hallmark Hall of Fame original movies and cable's top-rated Hallmark Channel. Worldwide, Hallmark offers products in more than 30 languages available in 100 countries. This privately held company is based in Kansas City, Mo., and is led by the third generation of the founding Hall family. Visit http://corporate.hallmark.com for more details.