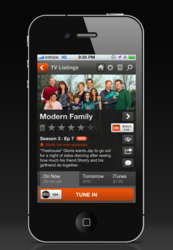 "The integration of BuddyTV offers a new level of personalized convenience and control, right from the palm of the viewer's hand." -- Matt Thompson, director of Social TV and Design Thinking for DIRECTV
Seattle, WA (PRWEB) May 30, 2012
BuddyTV, creators of the top-rated television guide app the BuddyTV Guide, now offers DIRECTV broadband connected subscribers a more powerful and personalized TV viewing experience than ever before. With the BuddyTV Guide, DIRECTV customers can control their set top boxes with their smartphones or tablets and even use the app itself as the remote control.
DIRECTV customers can connect their set top box with the BuddyTV Guide on iPhone, iPod Touch, iPad or Android device, then use the guide to manage their entire television lifestyle directly on their device. Users can tell the guide their favorite channels and shows and view a personalized channel guide that combines their picks with curated recommendations, or filter selections based on program type. Then just tap once to tune in, using the BuddyTV Guide itself as the remote. Detailed program information and customizable reminders make it easier to find new favorites and never miss must-see shows.
"The BuddyTV Guide is another innovative way DIRECTV provides its customers with the best TV entertainment experience," said Matt Thompson, director of Social TV and Design Thinking for DIRECTV. "The integration of BuddyTV offers a new level of personalized convenience and control, right from the palm of the viewer's hand."
As more consumers reach for their mobile devices in their living rooms, this forward-thinking partnership gives DIRECTV customers state-of-the-art command over their in-home services, as well as increased access to TV-related content and social features. The BuddyTV Guide includes BuddyTV.com's robust content catalog, including detailed scheduling information, news, articles and slideshows, and gives users the ability to post comments directly to Facebook or Twitter.
"We're excited to work with such an innovative partner like DIRECTV, that seeks to bring more products and services that their users want to have," says BuddyTV CEO Andy Liu. "They've been a great partner, and we look forward to building great products for DIRECTV consumers."
The BuddyTV Guide works with internet-enabled DIRECTV set top boxes and connects over the customer's home network. The app is available for free in the iTunes store and Google Play Android Market, and also works with TiVo boxes and Google TV boxes.
About BuddyTV:
As the #1 independent TV site on the web, it has always been BuddyTV's goal to bring TV fans closer to the shows they love. On the web, this means providing a venue for nearly 10 million unique visitors per month to connect with fellow fans, read the latest news and enjoy entertaining features about their favorite shows. Now, with over 300,000+ downloads on iOS and an average rating of 4.5 stars, the BuddyTV Guide app is enhancing and expanding the ways that consumers enjoy their TV time.
For press inquiries or to arrange an interview with BuddyTV CEO Andy Liu, please contact Meghan Carlson at BuddyTV: meghan(at)buddytv(dot)com or 206.859.4180 x203. For more information about BuddyTV and the BuddyTV Guide App, visit http://www.BuddyTV.com, and follow @BuddyTV and @BuddyTVGuide on Twitter.