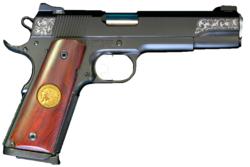 Only six of these custom-made Nighthawk pistols with the gold pieces were made. It's fitting that an exceptional memento such as this be given to the winner of the most prestigious pistol tournament in the world
Beaumont, Texas (PRWEB) May 30, 2012
(Beaumont, Texas) – A handcrafted Centennial Edition Nighthawk Custom 1911 pistol with two rare, 1911-dated US. gold coins in the grips was presented by Universal Coin & Bullion of Beaumont, Texas (http://www.UniversaCoin.com) to Doug Koenig, the national champion of the 2012 MidwayUSA & NRA Bianchi Cup sharp shooting competition. Universal is the official bullion and rare coin dealer of the National Rifle Association (http://www.NRA.org) and a corporate sponsor at the recent tournament.
"Only six of these custom-made Nighthawk pistols with the gold pieces were made. It's fitting that an exceptional memento such as this be given to the winner of the most prestigious pistol tournament in the world," said America's Gold Expert, Michael Fuljenz, President of Universal Coin & Bullion and an award-winning writer about gold and gold coins.
This was the 14th time Koenig has won the national championship title. Conducted May 23 - 26 in Columbia, Missouri, the Bianchi Cup originated in 1979 as a law enforcement training match. It is named after former police officer John Bianchi, an executive of holster maker Bianchi International.
Universal sponsored the challenging Falling Plates event that was named this year in memory of long-time volunteer Olin "Oli" Barjenbruch. Paul Stein, Universal's Vice President of Marketing, said: "It was truly an honor to present awards to the winners of the Falling Plates event with Oli's widow, Dr. Peggy Barjenbruch. This was the first time in the history of the Bianchi Cup an event was named after a volunteer, and we are thankful to be a part of Bianchi Cup history."
In the Falling Plates matches shooters fire at eight-inch round steel plate arranged in banks of six at distances ranging from 10 to 25 yards and under varying time limits. Universal presented plaques to the first, second and third-place finishers in the three Falling Plate classes.
Open:
1st place: Luca Mangano
2nd place: Anita Mackiewicz
3rd place: Craig Ginger
Metallic:
1st place: Daniel Hauserman
2nd place: Marc Kleser
3rd place: Douglas Goff
Production:
1st place: Kyle Schmidt
2nd place: Vance Schmid
3rd place: Frank Reiche
Founded in 1994, Universal Coin & Bullion, Ltd. is a national leader in gold, rare coins and numismatic education. UCB President Mike Fuljenz is a nationally-known rare coins and precious metals expert. He is a former authenticator, grader and educational seminar instructor for the Congressionally-chartered American Numismatic Association. He has won more than three dozen prestigious awards from the Numismatic Literary Guild and multiple awards from the Press Club of Southeast Texas. He is a frequent interview guest on radio and TV news and personal finance programs, as well as a community leader in his hometown of Beaumont, Texas.
For additional information, contact Universal Coin & Bullion at (800) 459-2646. Visit online at http://www.UniversalCoin.com.