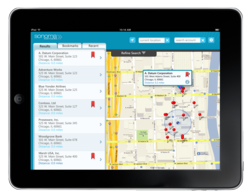 The Sales Mapper tool is about making sales representatives more efficient in the field so that they can close more business.
Chicago, Ill. (PRWEB) May 31, 2012
Sonoma Partners, a leading Microsoft Dynamics CRM consultancy with expertise in enterprise mobility, announced today the release of Sales Mapper, an enterprise-grade application for the Apple iPad. Sales Mapper is a location-aware tool designed for field sales representatives to access and filter nearby accounts.
The app is built to work with Microsoft Dynamics CRM, giving a company's mobile sales force faster access to key account and contact information, and the ability to filter based on the type of accounts nearby.
Other features of the Sales Mapper include the capability to:

Search for nearby accounts
Bookmark favorite accounts for easy access
Narrow search by account type or ownership
Browse other locations to plan future visits
Upon entering the app, users are met by a map view with pins representing nearby accounts. The interface has pinch-to-zoom capabilities and one-tap interactions with account locations. Sales reps can then pull up information about customers, vendors and even competitors.
"The Sales Mapper tool is about making sales representatives more efficient in the field so that they can close more business," said Mike Snyder, principal of Sonoma Partners. "If a meeting finishes early, the salesperson can service an open account nearby and save time on a future trip. Sales Mapper allows the sales rep to be prepared by sorting through past interactions with the client as well as any open customer service claims."
Sonoma Partners works with companies to customize the Sales Mapper for their specific needs and deploy it in the field. For more information on Sales Mapper for iPad, visit the Sonoma Partners website.
About Sonoma Partners
Chicago-based Sonoma Partners provides technology and business process consulting services to enterprise and mid-sized companies, with a focus on Microsoft Dynamics CRM and enterprise mobility solutions. Founded in 2001, the company has worked exclusively with Microsoft Dynamics CRM since the Beta release of version 1.0. Microsoft twice awarded Sonoma Partners as the Global Microsoft CRM Partner of the Year. The company's unmatched expertise in Microsoft Dynamics CRM offers a rapid path to value and return on investment. Sonoma Partners has extensive experience in several vertical industries, with a particular focus on professional services. In March 2012, Sonoma Partners announced the development of the first-ever Windows 8 tablet app for the enterprise. To learn more, visit http://www.SonomaPartners.com.