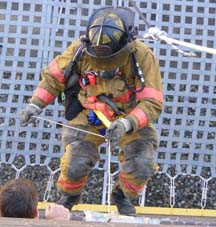 A dealer that just sells one system will push a customer to their one system. We can show them all of the systems and the customer can choose the escape system that works best for them
Neptune, NJ (PRWEB) May 31, 2012
All Hands Fire Equipment, has been at the forefront of firefighter escape systems and with more than 11 years experience and have established themselves as the leading provider of Firefighter Personal Escape Systems. The founder and President, Donald Colarusso, is a Fire Chief in New Jersey with 25 years service. He is a NJ State Certified Instructor and one of only a few certified escape system instructor authorized to teach on all of the leading NFPA-certified firefighter escape systems. Each of these unique systems offer an Anchor, 40'-50' of escape rope, a descending device, an attachment carabiner and a carry bag:- Sterling F4 Escape System, DEUS Escape System, RPI Escape System, Petzl EXO Escape System, RIT Escape Systems and CMC Escape System. Other Firefighter Escape System Components offered by All Hands Fire Equipment at http://www.allhandsfire.com/Firefighter-Escape-Systems include the NFPA Gemtor Personal Safety Harness, NFPA certified carabiners, anchor hooks , personal escape rope, descenders and carry bags.
"By offering all of the leading escape systems that are available, this process allows the customer to see a non-bias view of what is available", said Chief Colarusso . "A dealer that just sells one system will push a customer to their one system. We can show them all of the systems and the customer can choose the escape system that works best for them", he said.
All Hands Fire Equipment has equipped thousands of firefighters with this essential personal protective equipment and logged over 20,000 bailout slides in cities including Newark NJ which is the largest fire department in the state. Other influential Fire Departments that have been trained or are scheduled to be trained include, Philadelphia PA Fire Department, Paterson NJ Fire Department, Bayonne NJ Fire Department, Wichita KS Fire Department, Wayne NJ Fire Department, Washington DC Fire Department, Bluefield Fire Department, WV, Camden NJ Fire Department, Summit NJ Fire Department, Setauket NY Fire District. In just the past four months, All Hands have provided over 1,500 firefighters with Personal Escape Systems.
With all of the positive aspects associated with the introduction of firefighter escape systems, one stumbling block has presented a problem for some fire departments is funding. This is yet another area that All Hands Fire Equipment has created a potential solution. "We provide a 'Grant Template' to our customers. This document has been successful for some customers in acquiring grant funding for the purchase of their firefighter escape systems", said Chief Colarusso, "The customer just needs to fill in the blanks and submit for funding".
All Hands Fire Equipment has everything a fire department needs when it comes to firefighter escape systems. The top systems to choose from, training from the most experienced instructors, and replacement parts including carry bag options.