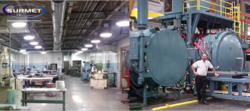 ALON® Transparent Armor offers 2x improvement in areal density and thickness over conventional glass armor.
Burlington, MA. (PRWEB) May 31, 2012
Transparent armor solutions, based on polycrystalline, transparent ceramics such as ALON® offer a factor of two improvement in areal density and thickness over conventional glass armor. ALON® Transparent Armor also provides significant advantages for Night Vision Goggles (NVG) and situational awareness. Furthermore, ALON's ease of manufacture makes it compatible with the very large scale, low cost manufacturing required to meet the growing demand for high performance applications.
Surmet's vertically integrated manufacturing capability begins with the synthesis of its own ALON® powder from affordable precursor materials which are abundantly available in the USA. The combination of a dependable supply of low cost, ultra high purity powder, a robust and reproducible process for ALON® blanks, and an established capability to fabricate these blanks into finished windows allows ALON® Transparent Armor to be seriously considered for many current and future applications.
In addition to being the premier lightweight, high performance Transparent Armor material, ALON® is also being used for very large, high performance sensor windows. What is important for these applications is a refractive index homogeneity of less than few parts per million, over the entire clear aperture of the window.
"The incredible progress we have made is very satisfying to me", says Dr. Lee Goldman, VP and Chief Technology Officer at Surmet, "because the reason I came to Surmet from Raytheon in 2002 was to be part of a team that would successfully commercialize this technology".
Founded in 1982, Surmet Corporation is an Advanced Materials Technology and Solutions Company, with a vertically integrated manufacturing capability. In addition to multiple facilities in Massachusetts, including its Headquarters, Surmet has R&D and manufacturing facilities in Buffalo, NY and a Precision Optics fabrication plant in Murrieta, CA.
Surmet thanks the US DoD and DoE for their funding support.
To find out what Surmet can do for you, please visit our website: http://www.surmet.com