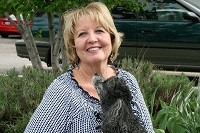 With GOFoods meals, families everywhere within the United States and Canada are learning how the GoFoods meals can help save them time and money, especially in today's difficult economy, said Babs Rossberg, GOFoods Global Founder.
Salt Lake City, UT and Orlando, FL (PRWEB) May 31, 2012
Babs Rossberg, Founder and Brad Stewart, President of GOFoods Global, the nation's category creator in premium-quality food reserves and shelf-life nutrition, brings the GOFoods Global mission to feed and prosper American families one city at a time to Orlando, Florida, as part as the company's 100-city GO Tour 2012 event. Originating with an announcement to Hollywood celebrities at an Oscars fundraising event in Hollywood, GOFoods is dedicating the entire year to take its story to feed and fund families across North America and reaching every family that wants to participate in this great cause.
Families interested in sharing the GOFoods mission of feeding and prospering American families can join the GO Tour 2012 2-day event on June 1 & 2, 2012 at the Hyatt Place Lake Mary/Orlando-North, 1255 South International Parkway in Lake Mary; meetings will be held on both dates from noon to 1 pm and 7 pm to 8 pm.
"At the GoFoods Global launch in Hollywood, the response was extremely positive, and so many celebrities encouraged us to share the noble mission of feeding and prospering families that we organized GO Tour 2102. We're coming to Orlando, Florida, as part of the first phase of our tour, which originates at a grassroots level and reaches families in over 18 western cities in North America from Dallas to Calgary," said Brad Stewart. "This entire year, we invite everyone to come join the GOFoods cause to learn how your family can help make sure meals are served, saved, and shared."
Event benefits include a complimentary GO Tour sample pack just for attending ($45 retail value); new customers who join the company's wholesale program will have their membership waived ($30 value); complimentary 1-week GOFoods food supply with the purchase of special GO Tour product packs, along with free shipping on any product orders. The company will also provide complimentary training for those who want to know more about the health and preparedness benefits of GOFoods and how to help their families prosper. The end of each meeting will also include training on GO Party, the company's new direct sales model that brings families and friends together in a fun and relaxing atmosphere while providing rewards on every level of party participation.
With GOFoods meals, families everywhere within the United States and Canada are learning how the GoFoods meals can help save them time and money, especially in today's difficult economy. Although women typically comprise the majority of direct sales opportunities, men have also seized the GOFoods opportunity as a way to improve their quality of life and better manage their family and work commitments. Food is a product that everyone needs, and GOFoods healthy easy-to-prepare meals complete a variety of lifestyles—busy college students needing a faster nutritious meal, mothers looking for a quick dinner option that doesn't involve fast food, families wanting to purchase long-term storable reserves for the future. GOFoods allows everyone to take control of their future and feed their freedom, physically and financially.
"Food is something that has been the center of people's lives since the beginning of time," said Babs Rossberg, thirty year food industry leader and founder of GOFoods Global. "GOFoods Global offers delicious meals—everything from our hearty soups to gourmet entrees, natural snacks and wholesome bakery goods, and refreshing beverages that are deliciously consumable now but can also be stored for up to 25 years for future family meals."
GO Tour 2012 operates across the entire year in four phases. Phase 1 begins in 18 western cities across North America and sets the foundation for the entire tour. As participation in the tour grows, phase 2 will be a revisit to the same cities with added cities in the Midwest. Phases 3 and 4 include visits to the central and eastern regions of Canada and the United States in addition to the company's GO Cruise summer incentive trip in the Caribbean. More details and updated tour schedules can be found at http://www.GOTour2012.com throughout the year.
About GOFoods Global
GOFoods' mission is to feed and prosper the world by serving, saving and sharing relevant, easy-to-prepare meals and beverages for on-the-go-lifestyles that encourage people to eat nutritiously and spend time together, while enjoying natural mouth-watering meals that taste as good today as they will in 25 years. Founded by nationally known food-reserve experts Steve Shenk and Barbara Rossberg with over thirty years of experience, the Utah-based company's goal is to change the way people look at quick-fix, extended shelf-life, and daily use food in the twenty-first century.
Contact: Erin Hallmark, +1-801-415-2745, info(at)gofoodsglobal(dot)com