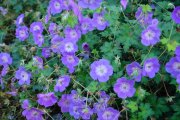 Gloucester, MA (PRWEB) May 31, 2012
Susan Kelly, co-founder of GenerousGardeners.com, says, "Gardeners have always generously given away their extra plants, especially when they can find a local gardener or charitable plant sale that needs their plants. So that's why we want to help gardeners find other local plant sales for plant donations. For the Gloucester plant sale, Generous Gardeners hosted the plant sale at the glorious Fort Stage Park, right on Gloucester Harbor. We had spectacular weather, free parking, and hundreds of donated plants, most of them listed on GenerousGardeners.com. 100% of the proceeds went to the Gloucester Educational Foundation, which received thousands of dollars of much needed money to aid educational endeavors."
"Using the site to list plants to swap with other gardeners is free, as is listing plants to give to charitable plant sales. As more gardeners use the web site, the more useful the site will be for other gardeners and charitable plant sales. That's why we'd like a million gardeners to go online and list their plant swap or donation offerings. So if you're a generous gardener, go online and do it."
For the Gloucester plant sale, donors received tax deductions equal to the value of their plants sold.
GenerousGardeners.com uses Google Maps to find local plant sales or swapping partners.
"Hey, gardeners! Spread the word," says Terese O'Connell, co-founder. "We need generous gardeners in every neighborhood across the country to start listing and finding plant swaps, and donating to good causes. And even getting a tax deductions for their plant donation. And don't forget to check out our blog. We put a lot of good plant events and information there."