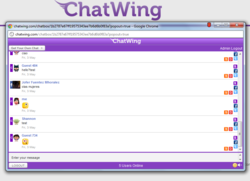 Austin, TX (PRWEB) May 30, 2012
The Iphone craze is still ongoing today, based on the numbers of people who are looking for games, apps, and developments. In fact, a large number of websites has been dedicated for Iphone development and special applications. In order to help out Iphone users who are looking for games and apps, Chatwing has recently launched a globally efficient chat widget that can be installed to blogs and websites. This application has helped a lot of bloggers when it comes to online visibility.
Iphone gadgets are still considered pricey because of the numerous functions that they can do. Adding to that, they can bring hours of leisure and information for everyone. As the Iphone craze continues, people become more persistent in their search for apps and games. Lately, they are now visiting the Chatwing shoutbox, connecting to large groups of people simultaneously. Many of these users have chosen Chatwing because of its speed and real potential when it comes to global connection.
Chatwing's most famous feature is social media integration. With this feature, a lot of Chatwing users can now expand their social networks by a considerable rate. Users can opt to log in with their Facebook or Twitter accounts, and this is better compared to the Guest log in method. The recent version of the Chatwing shout box can also handle up to 600 active chatters in real time. This simply proves Chatwing's stability.
For bloggers, Chatwing's easy installation mechanism is also an advantage. The Chatwing development team has noted that the average widget installation for each user is about thirty to forty seconds, depending on Internet connection. This installation speed may be simple but it has contributed to Chatwing's overall ranking.
Recently, the Chatwing team maintains a Facebook page that is updated with fresh and useful content. In its main website, there is an embedded web chat box. This is useful for new users who want to try out the widget for their own.
About Chatwing.com
Chatwing.com has developed live chatrooms software for websites and blogs. It caters to different online communities due to its high rate of connectivity. Everyone can create a customizable live chat box feature in 1 minute or less. Users have the ability to customize the size, color, and fonts of the chat product. The ability to chat live via social media accounts such as Facebook and Twitter enable Chatwing to offer a personal and unique real-time experience to all sites. Chatwing is 100% free and very easy to use.