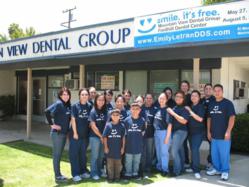 El Monte, CA (PRWEB) May 31, 2012
It's not every day that patients can receive free dental care, and yet, on June 8th, 2012, that's exactly what will happen for the first 100+ patients to walk through the doors of Mountain View Dental Group.
El Monte and San Gabriel Valley locals are invited to receive free dental care at Mountain View Dental Group in El Monte. Owner Dr. Emily Letran and staff will host this free event in partnership with non-profit Dentistry From The Heart, supporting local residents by providing the community with free dental services.
From 7:00 AM to 4:00 PM Mountain View Dental Group's dentists, assistants, and hygienists will donate their time and resources to provide the first 100 adult patients with one of the following high-quality dental services: tooth extraction, filling, or cleaning. The purpose for the event is to provide much needed health care and relief to people in the community.
Long-time San Gabriel Valley resident and program sponsor Dr. Emily Letran believes in giving back to the community and not only helping give local residents access to free dental care, but also helping them regain their confidence and ability to smile. "We know it can be tough on families today to get basic dental care," says Dr. Letran. "Some may have lost their insurance, and others simply can't afford to pay out of their own pockets. That's why we wanted to continue offering this program. On Friday the smiles are on us!"
This is the second annual "free dental day" being offered by Dr. Letran and Mountain View Dental Group to support the needs of San Gabriel Valley residents who may not otherwise have access to these services under normal circumstances. With a goal of helping 60 people at their 2011 event, Mountain View staff and volunteers ended up providing over $14,000 in free dental services to 77 local residents last year. This year the Dr. Letran and her team are looking to top that number by providing 100 people in the surrounding community with free dental care.
Local residents that would like to get a treatment should arrive early on Friday, June 8th at Mountain View Dental Group, located at 4639 North Peck Road in El Monte, CA 91732. Registration begins at 7:00 AM, and patients will be seen through 4:00 PM that day. Treatments will be provided on a first come, first serve basis. Patients are also encouraged dress appropriately for the weather and bring chairs, water, snacks, etc., as the waiting area will be outside the facility.
For more information visit http://www.myelmontedentist.com or call Carolina Ramirez at (626)-444- 9281 or send an email to office(at)emilyletrandds(dot)com
About the Sponsors:
Dr. Emily Letran is a graduate of UCLA Dental School and has been providing top dental care to San Gabriel Valley for 15 years. In addition to Mountain View Dental Group, she owns Universal Family Dental Practice, also in El Monte, and Foothill Dental Group in Monrovia.
Since its inception, Dentistry From The Heart has grown to include over 200 annual events nationwide, and has provided more than 60,000 people with an estimated $8 million in free dental care services. For more information, please visit: http://www.dentistryfromtheheart.org
###