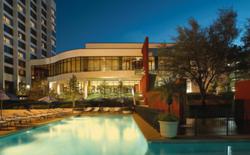 The energy that emerges from a jam-packed agenda ---along with the camaraderie that is an earmark of Avalla events—goes beyond a business meeting to an experience that changes lives." --Avalla founder and CEO Pam Dean
Houston, TX and Calgary, Canada (PRWEB) May 31, 2012
Avalla, LLC announces that its 2012 Annual Conference will take place from August 16 to 19 at the Omni Galleria Hotel, located in the heart of the prestigious Uptown Post Oak/Galleria area of Houston, Texas.
This year's theme — "Power Up!" — invites Avalla's independent Consultants and Leaders to take their businesses to the next level of success by participating in informative, educational sessions that will give them the knowledge and tools to do so.
"Annual conference is an amazing event where Consultants from across the US and Canada come to recharge their personal vision with excitement and a purpose that makes it unique to each of them," says Avalla founder and CEO Pamela C. Dean. "It's a celebration of independence and accomplishment in a five-star setting where performance meets lifestyle in a grand way. The energy that emerges from a jam-packed agenda of product news, program announcements, innovative supports, personal development themes and real life success stories of inspiration---along with the camaraderie that is an earmark of Avalla events—goes beyond a business meeting to an experience that changes lives."
Avalla is a Houston, Texas-based direct selling company that offers botanically-based skincare, anti-aging, beauty and wellness products, along with an entrepreneurial opportunity that includes unlimited income potential, flexibility and the freedom to have one's own business without high start-up or overhead costs.
As is a tradition at Avalla, the week's itinerary will kick off with the company's "From the Heart" initiative, in which Avalla Executives and Consultants visit a local women's shelter in the community for an evening of caring, sharing and pampering. The conference agenda also includes a welcome dinner, a hilariously fun talent night in which colleagues share their various skills and talents, a gala reception dinner with an awards presentation and dancing, and a closing ceremony. The conference location, near downtown Houston and near the Galleria shopping mall, offers attendees the chance to relax and enjoy themselves during their stay.

About Avalla:
Avalla offers an extraordinary line of botanically inspired beauty and wellness products that are safe, naturally sourced and offer excellent value to customers. By combining the purest ingredients that the earth has to offer, along with state-of-the-art product formulations perfected by science, Avalla combines the best-of-the-best products, people and technology to attract the next generation of leaders, consultants and customers. The company prides itself on creating a heart-based family of successful entrepreneurs who are dedicated to assisting others in achieving a financially secure lifestyle and empowering them to believe in themselves. Avalla is a member of the Direct Selling Association, and adheres to and supports their code of ethics. To learn more, visit http://www.avalla.com.
Avalla president and founder Pam Dean is available for media interviews. To schedule an interview, contact Gina Mazza at 724.316.4751 or email ginamazza(at)me(dot)com.
E-photos are also available.
— 30 —