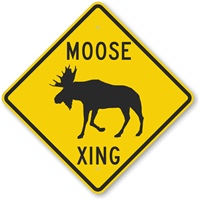 "We measure signs using the signs as square method instead of the tip to tip method," said Cole Paulson, Manager of RoadTrafficSigns.com. "This way, customers can buy signs without raised prices for measuring more materials."
Brooklyn, New York (PRWEB) May 31, 2012
RoadTrafficSigns.com, the largest provider of signage for roads and highways, has issued new moose crossing signs. An accident with a wayward moose or elk is destructive to animals and drivers alike. Signs are excellent tools for guidance and also function as road safety systems.
Animals such as moose or elk are factors in motor vehicle accidents nationwide. According to a Maine news site Bangordailynews.com, though Maine normally has more moose than any other state apart from Alaska, there are roughly 700 car-moose crashes a year nationwide. The average adult bull moose weighs as much as 1600 pounds and stands at 8 or 9 feet tall; therefore, the crashes are quite devastating. The news site maintains that one of the steps Maine took so far in efforts to reduce car-moose crashes is posting more warning signs.
The new Moose Crossing Signs feature recognizable images of a moose to mark crossing areas with text that reads "Moose Crossing." One special sign has a crash and moose graphic to urge drivers to utilize caution. These signs are excellent ways to prevent accidents and collisions to visually enforce staying alert. Additionally, RoadTrafficSigns encourages viewers to take advantage of other crossing signs for animals such as elk, deer, or ducks.
RoadTrafficSigns has a uniquely advantageous way of measuring signs. "We measure signs using the signs as square method instead of the tip to tip method," said Cole Paulson, Manager of RoadTrafficSigns.com. "This way, customers can buy signs without raised prices for measuring more materials." The signs are compliant with MUTCD guidelines for moose crossing signs, diamond shaped with special ink.
The signs are made with 3M branded reflective film, inks, and 80 millimeter thick heavy duty aluminum. The line is known to pass the 'rifle-shot gun test' as an ultimate test of durability. All signs on RoadTrafficSigns were created to withstand water, weather, and chemical abrasion.
For more information, visit http://www.roadtrafficsigns.com/Crossing-Signs/Moose-Crossing-Sign-Elk-Crossing-Sign.aspx
About RoadTrafficSigns.com
RoadTrafficSigns is the leading online distributor of MUTCD traffic signs. The signs are made with long-lasting 3M ink and offered in multiple reflective grades. Customers can create signs using convenient customization wizards.
About SmartSign
SmartSign is one of America's fastest growing e-commerce companies and parent of RoadTrafficSigns.com, MyParkingSign.com, as well as more than 50 other sites. The company manufactures and distributes a wide range of signs, tags, mats, and labels. In the past, many consumers have found it hard to find, hard to design and hard to order signs with the right message. By positioning "signs as solutions," SmartSign has taken an entirely different approach. Through highly targeted, content-rich, and authoritative retail sites, the company provides specific solutions to specific problems, such as customizing an asset tag. SmartSign is widely recognized for its quality construction; its signs come with a 3M® warranty and outlast fast-fading, ink-jet signs. Other SmartSign advantages include fast and free shipping, the Web's largest range of designs, and a best-price guarantee.