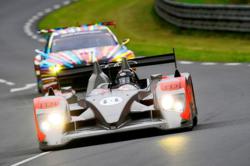 (PRWEB) May 30, 2012
Scott Tucker and Level 5 Motorsports have landed in France ahead of the world famous Le Mans 24 Hour Endurance race. The Level 5 driving team of Scott Tucker, Christophe Bouchut, and Luis Diaz will be taking to the wheel of their #33 HPD-ARX-03b this coming Sunday, June 3. for the official test day. The test day is the official opening of the Le Mans fortnight which culminates with the start of the race on Saturday June 16.
The pit lane and paddock area of the famous French circuit has gradually been filling up with cars, drivers, mechanics and engineers over the past few days as entries for the big race prepare for the test day. The excitement and anticipation has been building as the teams put the finishing touches to their preparations.
Due to the intense nature of planning for the 24 hour endurance race, the teams competing in the race usually arrive with plenty of time to spare to work on their cars to ensure everything is in place for the test day. 61 cars will be taking part in the test day which allows the drivers to gain some valuable insights into the demanding circuit de la Sarthe. The test day also allows the organizers of the race, the Automobile Club de l'Ouest (ACO) to ensure that all competing cars meet the technical specifications for their class category.
The Level 5 entry will be competing in the LMP2 category. The LMP2 category is also known as the 'junior prototype' category and is the second most powerful class behind the cars competing in LMP1. This year's race is the 80th annual 24 Hours of Le Mans. The Level 5 Motorsports team won their invitation to the famous endurance race by securing a win in last season's Petit Le Mans race, which was the seasons closing race in the American Le Mans Series (ALMS). To find out more about the race visit http://www.lemans.org/en/
About Level 5 Motorsports
Level 5 Motorsports has fielded successful entries in GT and Prototype classes in the American Le Mans Series, GRAND-AM Rolex Sports Car Series, Ferrari Challenge Series, Cooper Tires Prototype Lites, IMSA GT3 Cup and the Sports Car Club of America since 2008. The team has competed throughout North America and Europe, extensively in France and Spain. Team owner and driver Scott Tucker has earned five national championships and has more than 100 podium finishes and 75 victories in his driving career. Level 5 is based in Madison, Wisconsin.