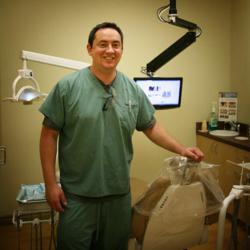 Boost is the quickest and least sensitive whitening product on the market. It will get your teeth their brightest all summer long. - Dr. Robert Loomis
Irvine, CA (PRWEB) May 31, 2012
Loomis Dentistry, a dental office in southern California that specializes in general cosmetic and implant dentistry, is now offering patients a summer whitening special for $250. Dr. Robert Loomis DDS is offering Opalescence Boost, a chemically activated in-office whitening procedure that requires no light, only dual-syringe chairside mixing that activates the product. Although it uses no light, it is still proven to be effective as light-activated formulas. Once activated, the 40% hydrogen peroxide gel is delivered through the syringe and applied to your teeth for whitening.
Unlike other Opalescence products, the PF formula strengthens enamel, decreases sensitivity and prevents caries. Dr. Loomis uses a fresh chemical each time the syringe is applied. What's one of the best benefits for boost whitening? Convenience. It is easy to see for complete removal and has a two 20 minute applications for a total of 40 minutes of treatment time.
Dr. Loomis highly recommends Opalescence Boosting to his patients, especially for those who have sensitive teeth. He says, "Boost is the quickest and least sensitive whitening product on the market. It will get your teeth their brightest all summer long."
To learn more about Opalescence Boost whitening specials at http://www.loomisdentistry.com, please visit our specials page and learn more about the different services we provide.