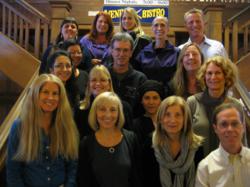 We've had great success collaborating with Living Light on our science of raw food nutrition classes over the years, and we're greatly looking forward to taking this successful and informative introductory class to various cities in North America
(PRWEB) May 31, 2012
Living Light Culinary Institute, a gourmet raw food school attracting students from more than 50 countries and six continents around the world, is pleased to announce the launch of the 2012 Science of Raw Food Nutrition Tour with Drs. Rick and Karin Dina, D.C., who will teach their introductory 12-hour raw food nutrition course in several cities. Three venues have been scheduled, with more in the works: Indigo Food in Vancouver B.C. on June 17, 2012, People's Food Co-op in Portland, Oregon on July 14, 2012, and at a private residence in Newcastle, Washington (near Seattle) on July 15, 2012. Registration starts at 8:30 AM, and class begins promptly at 9:00 AM. Tuition is $375.
Visit http://RawFoodChef.com/ScienceTour.html for complete tour information.
The one-day intensive course, geared towards anyone looking to improve their health by adding more raw foods to their diet, is designed for the non-scientific person as well as those with a science or nutrition background who are interested in learning more about the specifics of raw food nutrition. The course is comprised of eight hours in class and four hours of online learning, and covers a variety of topics, including raw vegan sources of iron, calcium, protein, vitamin B12 and essential fatty acids, as well as blood sugar regulation, pH balance, nutrient values in cooked foods, anti-inflammatory nutrition, weight management, anti-aging and longevity. It is available to the general public with no prerequisites. The Drs. Dina are enthusiastic about taking the course on the road:
"We've had great success collaborating with Living Light on our science of raw food nutrition classes over the years, and we're greatly looking forward to taking this successful and informative introductory class to various cities in North America."
All attendees will receive a comprehensive notebook including lecture notes, charts, graphs and essential information on raw food nutrition. Science of Raw Food Nutrition I is a prerequisite for all nutrition educator certifications at Living Light Culinary Institute, including the Benefits of Raw Food Nutrition Health Educator Certification and the Advanced Raw Food Nutrition Health Educator Certification. In a student poll, the top 10 reasons they elected to take Science of Raw Food Nutrition include:
Maximizing health and vitality
Achieving ideal body weight
Looking better
Feeling healthier
Extending lifespan
Enhancing mental clarity
Improving athletic performance
Reducing risk of degenerative disease
Reducing carbon footprint
Supporting sustainable farming
The husband and wife team has been teaching science of raw food nutrition courses at Living Light since 2006, and they are lauded by Living Light graduates for teaching how to effectively integrate information about raw food nutrition into a personal diet and healthy lifestyle program, and for their ability to make complex scientific concepts entertaining and easy to understand for anyone from a layperson to those with a strong science background.
Dr. Rick Dina, D.C. has studied and practiced raw plant-based nutrition since 1987. He is a graduate of Life Chiropractic College, has taught at Bastyr University, and has been a staff doctor at True North Health Center, where patients routinely recover from high blood pressure, elevated cholesterol, type II diabetes, autoimmune, and other nutritionally related health challenges.
Dr. Karin Dina, D.C. has studied and practiced raw food nutrition since 1990. A Magna Cum Laude graduate of the University of Colorado and Palmer College of Chiropractic West, and a past student in naturopathic medicine at Bastyr University, her focus has been advanced nutrition and nutritional biochemistry. The Dinas have been teaching their Science of Raw Food Nutrition series at Living Light since 2006, and currently maintain a private nutrition consulting practice through their website at RawFoodEducation.com.
Living Light Culinary Institute was founded in 1998 by Cherie Soria, author of The Raw Food Revolution Diet. She and her husband Dan Ladermann own four eco-friendly businesses on the Mendocino coast of northern California: Living Light Culinary Institute, Living Light Marketplace, Living Light Café, and Living Light Inn. Visit http://www.RawFoodChef.com for information on this and other courses available at Living Light Culinary Institute.