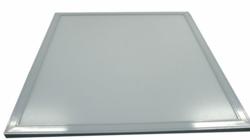 We've been designing lighting systems for a number of years. This is a very versatile and state-of-the-art lighting system
Lafayette, LA. (PRWEB) May 31, 2012
LA LED, Louisiana manufacturer of LED lighting systems, is pleased to have been chosen to introduce their new Lithium Hanging Light System at a new restaurant in Lafayette, Louisiana. Twin brothers Billy and Denney Guilbeau will open their new Burger and Sweets Restaurant in the former Southside Bakery location at the corner of South College and Johnston Street. The brothers were the previous operators of the Southside Bakery and will bring their burger "flare" to the new restaurant. Billy Guilbeau charged LA LED with creating a unique and up to date way to light their restaurant, "We wanted the coolest lighting of any restaurant in town, something that hasn't been seen before". LA LED chose to utilize its Lithium LED Panel lighting which is suspended by piano wire from a black ceiling, giving the restaurant the illusion of floating lights. Billy Guilbeau said, "They were very easy to install and it only took two hours from start to finish installing all the lights in the main area. LA LED also suggested utilizing PL-360 Light for can lighting in the main foyer.
"Once we turned them on we were really amazed at how much light the new lighting put out and with no heat coming from them," Guilbeau added.
Robert Owens, President of LA LED, said in making the announcement, "We've been designing lighting systems for a number of years. This is a very versatile and state-of-the-art lighting system; we're very pleased the Guilbeau brothers had the confidence in our ability to design something that was not only striking but functional as well. The new restaurant is due to open in the very near future and I'm sure the public will enjoy their tasty treats and sophisticated atmosphere."
Equally newsworthy is LA LED's ability to fund entire construction/conversion projects (regardless of size) at net neutral to net positive in most cases. The funding vehicle enables customers to immediately realize LED savings on a monthly basis without having to dip into cash reserves. Lighting designers and customers throughout the United States now have the flexibility and control to optimize any lighting environment for cost and efficiency while meeting all industry standards and environmental design requirements.
Robert Owens continued, "We're using technology and a funding vehicle that enables us to offer a more competitive system of illumination to our customers by lowering the overall cost of equipment they need to purchase….it's a win - win situation."
For additional information and to inquire about funding, purchase or lease, contact LA LED at 888-347-9295.