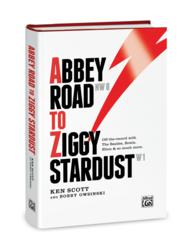 Los Angeles, CA (PRWEB) May 30, 2012
Alfred Music Publishing, the world leader in educational print music publishing since 1922, announces the release of Abbey Road to Ziggy Stardust, the highly anticipated memoir of the recording engineer/producer that shaped the sounds loved by generations, by Ken Scott and Bobby Owsinski. The June 6th book launch coincides with the 50th anniversary of The Beatles first recording session at Abbey Road Studios and the 40th anniversary of the release of The Rise and Fall of Ziggy Stardust and the Spiders From Mars.
Grammy®-nominated producer/engineer Ken Scott is one of the five main engineers to have worked with The Beatles. With no holds barred, Abbey Road to Ziggy Stardust chronicles his amazing career with intimate memories of working with The Fab Four and many other iconic recording artists in music history, including David Bowie, Elton John, Pink Floyd, the Rolling Stones, and more. Seminal albums that Scott has collaborated on include Magical Mystery Tour and The White Album by the Beatles, and David Bowie's Ziggy Stardust and the Spiders From Mars, and many other groundbreaking releases. Poised to satisfy the most ardent fans and industry insiders alike, Abbey Road to Ziggy Stardust is peppered with provocative and humorous anecdotes, and studio shoptalk. Also included are never-before-seen photographs, technical details exposed, and exclusive facts only available in the book.
To view the official Abbey Road to Ziggy Stardust trailer, go to http://4wrd.it/a.prabbeytoziggy.
Ken Scott's résumé features a who's who in rock and jazz, including some of the most important artists of the 20th century: The Beatles * David Bowie * Elton John * Pink Floyd * Procol Harum * Jeff Beck * Duran Duran * Harry Nilsson * the Rolling Stones * Lou Reed * America * Devo * Kansas * The Tubes * Missing Persons * and many others. He has also played a major role in the integration of a more powerful rock sound in the world of jazz via albums by Mahavishnu Orchestra, Bill Cobham, Dixie Dregs, Jeff Beck, and Stanley Clarke. Ken has garnered RIAA® Gold®, Platinum®, and Diamond® record sales awards; multiple Grammy nominations; along with a Clio Award for his recording of the famed Coca-Cola jingle "I'd Like to Buy the World a Coke." At last count, the albums that Scott has worked on have collectively sold well over 200 million units worldwide. However, no accolade stands as large as his recent election to the Sound Fellowship of the United Kingdom's Association of Professional Recording Services (APRS), a Lifetime Achievement Award recognizing his contribution to music.
Co-author Bobby Owsinski is a long-time music industry veteran, prominent pro audio guru, and prolific writer. Owsinski started his career as a guitar and keyboard player, songwriter and arranger, eventually becoming an in-demand producer/engineer working not only with a variety of recording artists, but on commercials, television and motion pictures as well. He was one of the first to delve into surround sound music mixing, and is credited on more than 100 surround projects and DVD productions for a variety of superstar acts.
Combining his music and recording experience along with an easy-to-understand writing style, Bobby has become one of the bestselling authors in the music recording industry with over a dozen publications that are now staples in audio recording, music, and music business programs in colleges around the world. His most recent titles for Alfred Music Publishing are The Ultimate Guitar Tone Handbook and The Studio Builder's Handbook. Abbey Road to Ziggy Stardust is Owsinski's 16th book.
Abbey Road To Ziggy Stardust (00-37250) is available for $24.99 at all major book stores and music retailers, and at alfred.com/AbbeytoZiggy.
REVIEW COPY AVAILABLE UPON REQUEST
ABOUT ALFRED MUSIC PUBLISHING
Alfred Music Publishing is the world's largest educational music publisher. Alfred produces educational, reference, pop, and performance materials for teachers, students, professionals, and hobbyists spanning every musical instrument, style, and difficulty level. Alfred's home office is located in Los Angeles, with domestic offices in Miami and New York as well as offices around the world including Australia, Germany, Singapore, and the United Kingdom.
Since 1922, Alfred Music Publishing has been dedicated to helping people learn, teach, and play music. Alfred currently has over 90,000 active titles. Alfred represents a wide range of well-known publications—from methods like Alfred's Basic Guitar, Alfred's Basic Piano Library, Premier Piano Course, Sound Innovations, and Suzuki, to artists like Led Zeppelin, The Rolling Stones, Bruce Springsteen, Van Halen, Green Day, Sheryl Crow, Eagles, Cole Porter, and George and Ira Gershwin, to brands like Star Wars, Harry Potter, Lord of the Rings, Rolling Stone Magazine, and Billboard.
In addition to its own titles, Alfred distributes products from over 50 companies, including Belwin, Daisy Rock Girl Guitars, Dover Publications, DW Drums, Faber Music, Highland/Etling, Kalmus, National Guitar Workshop, Penguin, TASCAM, Ultimate Support, and WEA.