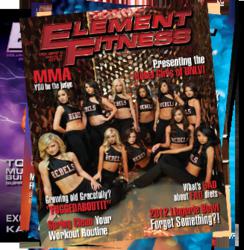 We're excited to expand the Las Vegas Element Fitness publication and the healthy Las Vegas lifestyle to a wider audience
Las Vegas, NV (PRWEB) May 31, 2012
Las Vegas Element Fitness, the premier fitness, nutrition and healthy living magazine, is announcing a limited, free subscription offering to the digital version of their magazine. The announcement corresponds with the magazine's new site, which can be found at http://www.LVEFmag.com.
The announcement reflects the magazine's expansion commitment to delivering the best and most current news and lifestyle information to Las Vegas residents and visitors to help their readers reach their healthy living goals.
"Las Vegas is an internationally famous resort city known for its lifestyle and entertainment. A growing part of the city's lifestyle is fitness, nutrition and healthy living," says Editor-in-Chief, Mary Cassidy. "We're excited to expand the Las Vegas Element Fitness publication and the healthy Las Vegas lifestyle to a wider audience who enjoys reading their favorite magazines on media devices."
Las Vegas Element Fitness, now in its third year, continues to evolve from its origins as a mixed-martial arts (MMA) showcase for local Las Vegas favorites like Randy Couture, Frank Mir, Robert Drysdale and Wandelei Silva to a national, widely-regarded multimedia news and features delivery system. Today readers are treated to a wide selection of health and fitness topics as well as photography of events like the 911 Remembrance day, Livestrong race, the Rock N Roll Marathon, and the Miss America Pageant.
"MMA remains a part of our focus," says Cassidy, "Their athletes are among the most fit in the world, and 6-time world Jiu-Jitsu champion Robert Drysdale is a feature writer for us."
"Expanding beyond MMA news and features was a natural step that our Las Vegas Element Fitness readers have embraced," says Cassidy. "We now cover more than just high level physical training, we cover the whole fitness lifestyle – from supplements and vitamins to sunscreen to nutrition to medication and along the way we motivate you to live the best, healthiest lifestyle you can!" Each issue contains interesting stories about people and places that make up the diverse fabric that is Las Vegas. The popular "Success Story" and "Spotlight" sections showcase local entrepreneurs and their personal journey and of course, readers look forward to seeing each issue's Miss Element Fitness.
Element Fitness distributes a limited amount of hard copies to over 1500 locations throughout the Las Vegas valley, so the digital subscription will bolster readership to an even wider audience. The digital magazine will contain advertiser's links to take readers directly to that advertiser's web page and to special offerings and discounts. The first digital issue features the popular UNLV "Rebel Girls" on the cover. Inside are the usual array of interesting and informative articles, reviews and reports. Of special note is the Spotlight feature, which gives readers a peek inside the ultra eco-friendly hotel, "Element" by Westin, where President Obama chose to stay on his visit to Las Vegas.
About Las Vegas Element Fitness
Las Vegas Element Fitness is the preeminent fitness, health, and nutrition publication in the Las Vegas valley. With its signature covers that feature local celebrities and stars from a variety of venues: the UFC®, Cirque du Soleil®, and the Thunderbirds of Nellis Air Force base, LVEF is distributed in over 1500 locations including gyms and health and fitness clubs, training facilities, retailers and restaurants, and medical offices and Strip spas. Readers retain each carefully crafted issue for the latest nutrition and exercise articles written by top Las Vegas authorities in the fitness, health, nutrition and medical fields. Visit our website at http://www.LVEFmag.com.
For more advertising or other marketing opportunities, contact Steave Keith at: slk(at)thegpsinc(dot)com. For other information or reviews, contact Mary Cassidy at: mek(at)thegpsinc(dot)com. Logos, web and press images are available by contacting Tauran Watkins at Tauran(at)thegpsinc(dot)com. You can find us on Facebook at LasVegasElementFitness and Tweet us at LVEF.