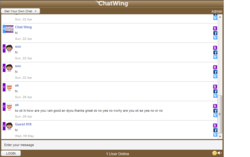 Tucson, AZ (PRWEB) May 30, 2012
Finding relationships online is one of the most common activities in the Internet today. According to many web surfers, online date hunting is convenient rather than attending real-life dating activities. Through the means of online chatting, people can now reach their prospect partners without spending time and money in travel. Usually, when things go better between two people, they will meet and greet. Chatwing, a renowned website chat application, is now available for people seeking relationships online. This chat app has been known for its key features.
Chatwing is a simple tool that improves the way people connect to others. Through websites, Chatwing utilizes instant messaging and highlights its importance for many people. Aside from being a unique shoutbox, Chatwing can function dually as a simple marketing arm. Visitors can use the chat engine to promote their products and services. This can be done by choosing the right words, links, and timing. Since Chatwing can hold up to 600 chatters in real time, the potential for online marketing is high.
Relationship seekers, on the other hand, may encounter a bit of competition in Chatwing. Since there are many visitors, the 'love hunt' game becomes thrilling. To ensure that visitors will have a good time, the Chatwing development team has included emoticons and an arsenal of avatar displays to tinker with.
One of Chatwing's strong features is Facebook and Twitter integration. Through these social media networks, people can now send out invitations to each other. People who logged in with their social media accounts will have their usernames appear in the Chatwing web chat tool. Aside from date seekers, online marketers have used this option to reach out to different Facebook communities, expanding the visibility of their products and services.
The Chatwing development team has also noted that bloggers who used the Chatwing shout box had improved rates of visibility by more than fifty percent. The rate usually varies depending on content and blog activity. As a final keynote, Chatwing chatrooms has a Facebook page that is frequently updated with fresh and useful content.
About Chatwing.com
Chatwing.com has developed live chat software for websites and blogs. It caters to different online communities due to its high rate of connectivity. Everyone can create a customizable live chat widget in 1 minute or less. Users have the ability to customize the size, color, and fonts of the chat product. The ability to chat via social media accounts such as Facebook and Twitter enable Chatwing to offer a personal and unique real-time experience to all sites. Chatwing is 100% free and very easy to use.