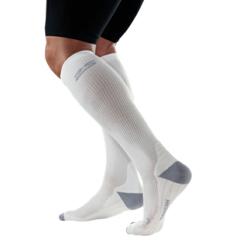 Elite athletes all around the world use Zensah® to train harder and recover sooner.
Miami, FL (PRWEB) May 31, 2012
With the 2012 London Olympic Games just two months away, Zensah® Compression Apparel has seen a dramatic increase in sales of their compression socks. Zensah®, a Miami-based designer of compression apparel, is a leader within the running industry. Their compression apparel has seen rapid adoption among elite athletes looking to gain a competitive-edge over their peers. Compression provides many benefits to athletes including decreased recovery time, lactic acid removal, and improved athletic performance.
While some compression sock manufacturers have repackaged medical compression socks and sold them to athletes, Zensah® has worked tirelessly with industry experts, athletes, and physical trainers to develop compression socks designed specifically to meet the unique needs of athletes. Zensah® compression socks make use of graduated compression, which features the greatest amount of compression at the ankle and less in the calf area. As a result, a pressure gradient is created increasing the venous return of blood back to the heart and ultimately improving the circulation of oxygenated blood throughout the body. This leads to decreased recovery time, allowing athletes to train harder and more frequently, resulting in better times and increased performance.
Zensah's® newly appointed Director of Marketing, Parker Robinson, says, "Elite athletes all around the world use Zensah® to train harder and recover sooner. While the market has become inundated by countless compression socks companies, Zensah® has emerged as a leading brand due to their superior fit and advanced athletic compression technology. As soon as one puts on Zensah® Compression Socks, it becomes quite obvious why these socks are best sellers and the number one choice among athletes."
Athletes are not just limited to using compression socks during and after training. With the 2012 London Olympic Games drawing athletes from around the world, many hours are spent on long, international flights. During these long flights, hours of sitting in small, cramped seats causes fluids to pool in the feet resulting in swelling in the legs. Zensah® Compression Socks help to combat the swelling by improving circulation, preventing the pooling of blood. Athletes are able to arrive at the 2012 London Olympic Games ready to perform at their best.
Zensah's® compression socks are available in white, black, pink, argyle, and sand colors. The socks are sold at athletic specialty stores throughout the United States and may be found online at http://www.zensah.com/compression-socks-mens.html. Zensah® also offers their top selling compression leg sleeves in a red, white, and blue design for runners and athletes to show their support of the USA during the Olympics.
About Zensah®: Zensah®, based in Miami, is the originator of seamless compression technology used by runners, triathletes, cyclists, and other outdoor sports. Zensah® is the number one selling high end compression brand in the world. Zensah® offers compression apparel products for performance and recovery.
Parker Robinson
marketing(at)zensah(dot)com
ZENSAH COMPRESSION APPAREL
(305) 935-4619