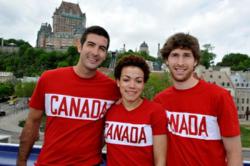 No stone has been left unturned to give our athletes everything they need to achieve their Olympic dreams
(PRWEB) May 31, 2012
Taekwondo Canada will nominate three athletes to the 2012 Canadian Olympic Team. Sébastien Michaud (Quebec, Que.), François Coulombe-Fortier (Quebec, Que.) and 2008 Olympic silver medallist Karine Sergerie (Sainte-Catherine, Que.) will represent Canada in London.
Sergerie will compete in the women's 67kg event, Michaud will be entered in the men's 80 kg category and Coulombe-Fortier has qualified for the +80kg competition.
"It is a thrill to see more and more athletes added to the Team as we get closer to London," said 2012 Canadian Olympic Team Chef de Mission Mark Tewksbury. "Our Taekwondo athletes are part of a very special group of athletes who will give their everything at the Olympic Games."
"Congratulations to the three newest members of the Canadian Olympic Team," said 2012 Canadian Olympic Team Assistant Chef de Mission Sylvie Bernier. "All your hard work and dedication are truly an inspiration."
"I am very proud and very excited to make my Olympic début," said Coulombe-Fortier. "After years of hard work, training and competing, I can't wait to compete in London."
"It is always a special honour to represent your country at the Olympic Games," said Michaud. "I'm excited to get to London and start the competition."
"There is still a lot of hard work to do before stepping onto that mat in London," said Sergerie. "I want to go into these Games totally prepared and make Canada proud this summer."
"Canada will be proud of its 2012 Canadian Olympic Team," said Canadian Olympic Committee President Marcel Aubut. "No stone has been left unturned to give our athletes everything they need to achieve their Olympic dreams."
Follow the athletes on Twitter at @TKD_Canada and @CDNOlympicTeam.