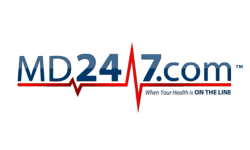 Learn about integrated healthcare delivery systems.
Tampa Florida (PRWEB) May 30, 2012
MD247 Founder Thomas Meehan issued a statement to the press on Wednesday discussing the goal of the telemedicine service provider to move toward an integrated healthcare delivery system.
Meehan explained that an integrated healthcare delivery system is typically a managed healthcare system in the United States that includes a hospital that provides immediate, or acute, medical care. The hospital care is complemented by a multispecialty care delivery system, often using technological advances, and the ability to contract for extra necessary services. On the far end of the equation, in the position that matters is the MD247 program member who utilizes the additional services to avoid the need to visit the hospital for either an emergency visit or for readmission of an undertreated medical issue.
Meehan explained that in the United States there is close to 850 integrated healthcare delivery systems, most of which are considered to be in an "evolving" state of integration as they attempt to make their "integrated healthcare" more appealing. In creating an "appealing" integrated healthcare delivery system, the provider is looking to keep program members within the healthcare system and satisfied by the user-friendly nature of the services. The goal is to provide MD247 patient members a product which eliminates costly intermediaries, promotes wellness and improves overall health outcomes.
Meehan explained that typical markers of integrated healthcare delivery systems include strong links to physicians, coordinated systems of care, expanse of geographic reach, strictly adhered to management techniques, utilization controls and oversight.
The MD247 theory of an integrated healthcare delivery system is actually the logical dynamic move from the integrated practice of healthcare, or the "mind, body and spirit" movement. Much like its integrated healthcare predecessor, the IDS is looking to take an idea which looked at healthcare as a single idea and expand that thought into something which touches every aspect of your daily life. With integrated healthcare delivery systems, the medical profession is making the mind/body/soul of a patient their foremost thought and they are providing each of us the opportunity to manage our own health with technological advances. It is only a matter of time before our smart phones can help create a perfectly healthy life.
Largo Florida based MD247.COM (MD247; MD/247; MD 247; M.D.247; MD-247) provides an affordable telemedicine supplement to existing healthcare services. MD247.COM telemedicine program members have unlimited telephone access to a nationwide medical support team, all with just a single phone call to the MD247.COM telemedicine Talk to a Doctor/Talk to a Nurse Hotline. MD247.COM has a virtual platoon of registered nurses; board certified physicians and a support staff available to members for all non-emergency situations. More information about MD247.COM is available online at http://www.md247.com.