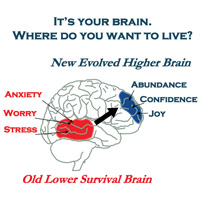 Come meet with me on May 31st for a night of great energy and great information about a revolutionary program created to help elevate our thought processes to a higher level of positive consciousness
Milwaukee, WI (PRWEB) May 30, 2012
Memorial Day is recognized as the start of summer and in honor of that tradition a Milwaukee doctor is holding a special event to introduce to those in attendance the power of Higher Brain Living®. "Come meet with me on May 31st for a night of great energy and great information about a revolutionary program created to help elevate our thought processes to a higher level of positive consciousness," said Dr. Ann Bell owner of AWAKEN Higher Brain Living™ in Elm Grove, Wisconsin.
Dr. Bell will give a quick overview of her 22-step personal development program that is known as Higher Brain Living® and H.E.A.R.T. "The letters are short for Human Emergence and Rapid Transformation," said Dr. Bell, "which simply means helping clients energize the prefrontal cortex of their brain to promote rejuvenation at high end physical, emotional, mentally and spiritually. The ultimate goal being complete discovery of the inner authentic self which in turn expresses feelings of clarity, joy and even invincibility in their lives."
The event is scheduled with a start time at 6:15pm at the Good Harvest Market (http://www.goodharvestmarket.com/ ) with all attendees receiving a $10 gift certificate good for any shopping pleasure inside the store. "They offer the finest in organic, gluten-free products," said Dr. Bell, "so not only will the audience have access to great food but also an overview of how to shift from feelings of anxiety and negative thoughts to the best in passionate and joy. A place we all love to be but not always possible in today's challenging society."
May 31, 2012
6:15 – 7:30pm
Good Harvest Market Community Room
1850 Meadow Lane
Pewaukee, WI 53072
Register for this event at Good Harvest 262-544-9380 or online at: http://www.higherbrainliving.com/free-presentations.php ("TALLY" in referral box)
Higher Brain Living® promotes a movement of energy from the lower survival brain to the higher part of the brain so a person can thrive in all areas of their life. Higher Brain Living® signals a major physiological shift in the transformation of humanity. A one-of-a-kind technique that frees fear-based lower brains, AWAKEN Higher Brain Living™ centers offers clients the chance to create an extraordinary new life, to thrive, to let go of stress and overwhelm, to experience joy, confidence, and passion and to grow and evolve every day. Each client is provided a map and tools to be able to execute higher brain physiology which allows a new way to be, and a new way to do in the world. For more information go to http://www.higherbrainliving.com/.