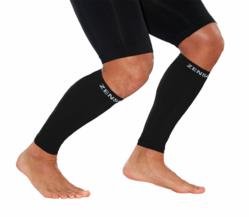 The increased number of athletes engaging in indoor cycling has been a large driver of growth
(PRWEB) May 31, 2012
Zensah® is a leading brand in compression apparel, focusing on seamless designs and innovative compression technology. Their compression leg sleeves and compression socks are praised by runners, triathletes, cyclists, and athletes of all levels. Zensah® will be showing their compression apparel at the World Spinning® and Sports Conference 2012 (WSSC), including their top selling cycling compression leg sleeves. The WSSC will take place Thursday, May 31 through Sunday, June 3, 2012 at the Hotel InterContinental in Miami, inviting retailers and professionals from around the world to experience the latest fitness trends and technologies.
Indoor cycling and spinning causes strain on the body, calf soreness, and calf fatigue. Compression apparel increases circulation and improves blood flow. The increased oxygen blood flow allows for greater performance and faster recovery so cyclists can train harder both indoors and outdoors. Zensah® compression leg sleeves feature advanced micro-ribbing that provides pin-point compression to the front and back of the calf and shin. Legs feel supported and fresh. Cyclists and fitness enthusiasts wear Zensah® leg sleeves pre-exercise to ensure their legs feel warm and loose.
Zensah® apparel and compression leg sleeves are made with thermo-regulating, anti-chafing, and moisture wicking fabric, keeping athletes comfortable and cool during training and fitness activities. Zensah® fabric is also anti-microbial meaning that odors are prevented from building up.
Director of Marketing at Zensah®, Parker Robinson, says, "We are excited to showcase our compression products at WSSC this year. Zensah® leg sleeves have been adopted by cyclists of all levels. The increased number of athletes engaging in indoor cycling has been a large driver of growth. Indoor cyclists across the country are showing up ready for class in their Zensah® compression leg sleeves. As a result, we have seen tremendous increase in the number of studios across the country now selling Zensah® to their clients. We are very excited to participate in the WSSC and connect with the cycling industry."
In addition to the popular compression leg sleeves, Zensah will also be showing their compression socks, cycling socks, and seamless sports bra.
About the World Spinning® and Sports Conference: The World Spinning® and Sports Conference 2012 (WSSC) will be located in Miami, featuring a diverse mix of exhibitors displaying their revolutionary equipment and apparel.
About Zensah®: Zensah®, based in Miami, FL, develops seamless compression apparel for athletes to be used during and after training or in competition. Their advanced compression technology works at an optimal level to improve performance and allow for faster recovery. For more information about Zensah® products, please visit http://www.zensah.com.
Parker Robinson
marketing(at)zensah(dot)com
ZENSAH COMPRESSION APPAREL
(305) 935-4619