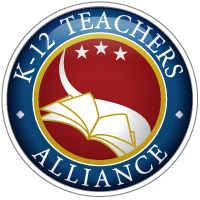 "The K-12 Teachers Alliance's mission and passion has always been to serve K-12 educators at the grass roots level to improve the educational opportunities of the children they serve."
(PRWEB) May 31, 2012
The K-12 Teachers Alliance is excited to kick off a campaign worth $100,000 in gift cards to DonorsChoose.org
The K-12 Teachers Alliance selected this fine organization because not only does their support go directly to the needs of educators in the classroom, but the DonorsChoose.org platform empowers teachers to help one another, which is the cornerstone of KTA's mission. The K-12 Teachers Alliance will not choose the individual recipients of their donations. Instead, KTA has designated their charitable contributions to be distributed by K-12 Teachers Alliance members.
KTA Lets Teachers Choose Donation Recipients
KTA's DonorsChoose.org campaign will let individual KTA member educators choose classroom projects worthy of donations through DonorsChoose.org gift cards
Gift cards, ranging from $25 to $100 in value, will be distributed to KTA's community, including:

"The K-12 Teachers Alliance's mission and passion has always been to serve K-12 educators at the grass roots level to improve the educational opportunities of the children they serve," said KTA Vice President Travis Rogers. "DonorsChoose.org provides an innovative, direct approach to do just that."
How Does DonorsChoose.org Work?
DonorsChoose.org is a unique K-12 organization that allows teachers to clearly define their classroom needs and make specific requests of donors. Educators simply post their project, whether it is buying books, lab equipment or funding a field trip, to the DonorsChoose.org website and wait for donors to fulfill their request.
From the donor's perspective, they can handpick their projects and donate any amount to one or multiple projects. The process produces tangible results that immediately help teachers and their student. Donors also receive photos and thank you letters from their benefactor classrooms.
In their support of DonorsChoose.org, KTA is in good company. Other DonorsChoose.org contributors include The Bill & Melinda Gates Foundation, The Wasserman Foundation and Disney. The organization is lauded by Oprah Winfrey, Phil Jackson and First Lady Michelle Obama. Stephen Colbert also sits on National Board of Directors.
Recent Projects from DonorsChoose.org
Learning by Leaps and Bounds!
Ms. Miller of Auburn Elementary School in Auburn, Illinois requested Leap Pads for her kindergarten students to help reach them at their individual reading levels. Her students "are like little sponges who soak up everything that [she] can give them."
Project Request: 2 LeapFrog explorers to use at literacy centers
Project Cost: $340
Project completed in March from 5 donors!
A Tablet for Children with Autism
Ms. Garlitos Johnson of Fishburn Avenue Elementary School in Maywood, California requested a video camera to help her students with autism understand social circumstances and conversation. She plans to use a strategy of recording her students perform their own social stories. Seeing their peers will help her students become more engaged in lessons and be more willing to participate.
Project Request: "My students need a video camera and memory card to capture all their fantastic, learning moments!"
Project Cost: $1,035
Project completed in February from 75 donors!
The potential impact of the K-12 Teachers Alliance donations, disseminated by individual educators, is undeniable. That is why KTA's Board of Directors plans to announce a multi-year pledge to create a sustained partnership into 2013 and beyond.
"We are proud to be a small part of this new and innovative way to help educators create valuable learning experiences for students," Rogers said.
About the K-12 Teachers Alliance
The K-12 Teachers Alliance is dedicated to meeting the needs of teachers, principals, and the students they serve. It is the mission of K-12 Teachers Alliance to help educators and students overcome the diverse challenges to achieve success in and outside the classroom.