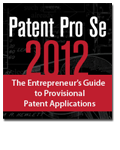 Patent Pro Se is an essential resource for every entrepreneur's toolbox.
Menlo Park, CA (PRWEB) May 31, 2012
For over twenty years, patent attorneyJohn Ferrell has counseled Silicon Valley's most successful innovators through the patent process. Now, he offers his extensive experience in a new online guide, Patent Pro Se: The entrepreneurs guide to filing provisional patent applications.
This comprehensive online resource, a digital overhaul of Ferrell's book by the same name, offers entrepreneurs and inventors a uniquely comprehensive DIY plan for securing patent protection. The guide also explores the benefits and challenges of securing patent protection, and addresses frequently asked questions about fees, timetables, forms and specifications.
Moreover, Patent Pro Se 2012 reflects changes to the patent process since the 2011 passage of the Leahy-Smith America Invents Act, a piece of patent reform legislation that will continue to take effect over the next two years.
Other information found in the guide includes:

an explanation of patents
a detailed review of provisional applications
instructions for writing the specification and preparing the figures
a sample provisional application and its corresponding issued patent
the set of filing documents and checklists needed to file a provisional application
sample letters for helping you meet potential licensees for your invention
a sample non-disclosure agreement
a resource list for finding more help and information
The new online format also enables easy linking to important USPTO pages and the inclusion of downloadable forms and sample letters.
Since its original publication in hard copy in 2004, Patent Pro Se has been the ultimate resource for entrepreneurial professionals looking to discover, understand and file provisional patent applications. Whether interested in preparing and filing your own applications, or just eager to learn more about this area of technology protection, Patent Pro Se is an essential resource for every entrepreneur's toolbox.
To access the updated online guide, visit http://www.carrferrell.com/forms/patent-pro-se/.
Mr. Ferrell is a founding partner of Carr & Ferrell LLP, one of Silicon Valley's foremost technology law firms, and specializes in patent and intellectual property law matters. He is the Chair of the firm's Intellectual Property Practice Group.