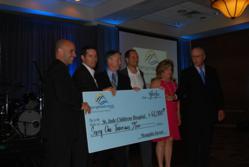 presenting the giant check was one of the proudest moments of my life
San Diego, CA (PRWEB) May 31, 2012
FortuneBuilders and their partner Memphis Invest had the incredible opportunity to donate $61,000 to St Jude Children's Research Hospital during the weekend of May 12th, 2012.
During their Semi-Annual Cash Flow Buying Event, FortuneBuilders and Memphis Invest were joined by over 110 Investors from 14 different states who flew into Memphis, TN to look at and invest in some of the premier Turnkey Rental Property Inventory in the entire country. 21 Cash Flow Rental Properties were picked up by individual FortuneBuilder's Mastery Students over the weekend for their personal Real Estate Portfolios.
The success of the event culminated on Saturday evening where FortuneBuilders and Memphis Invest hosted their Investors at a celebration gala. The Clothier Family who runs Memphis Invest and Paul Shively who represented FortuneBuilders, had the opportunity to present a check to St. Jude's for $61,000. A $500 portion of every profit from home sales by Memphis Invest and FortuneBuilders this year was donated to this wonderful cause.
"Standing up their with the CFO of St. Jude Children's Hospital Jeff Pearson as well as our partners Memphis Invest and presenting the giant check was one of the proudest moments of my life." said Paul Shively of FortuneBuilders. "Knowing that my efforts for the past 4 months will help to save the lives of children with cancer who otherwise would have no other option was truly moving. "
An additional $23,000 will be donated upon closing of the property on behalf of the individual Investors who purchased houses that weekend.
This effort helped to spearhead a new philanthropic initiative for FortuneBuilders in 2012. A major push for FortuneBuilders this year is to seek out and initiate solid relationships with major charities and philanthropic causes throughout the country.
Learn more about the FortuneBuilders, the event and how to donate to St Jude's below.
FortuneBuilders Inc. is a premier real estate investment and real estate education company headquartered in San Diego, CA. The Mastery Coaching program provides support and mentorship to students all over the country to learn and build a real estate investment business. Learn more about FortuneBuilders at http://www.fortunebuilders.com.
St. Jude Children's Hospital mission is to advance cures, and means of prevention, for pediatric catastrophic diseases through research and treatment. Consistent with the vision of our founder Danny Thomas, no child is denied treatment based on race, religion or a family's ability to pay. Learn how to help at http://www.stjude.org/waystohelp