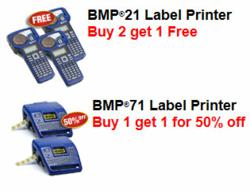 Duarte, CA (PRWEB) May 31, 2012
Zack Electronics is proud to offer huge discounts on Brady Portable Label Printers, now through July 31, 2012.
The Brady BMP21 Portable Label Printer is an all-in-one labeler for voice/data comm, electrical and general industrial crews. With label materials designed specifically for harsh environments, the BMP21 portable printer can quickly and easily create clear, legible labels that stick for years - despite extreme temperatures and curved or highly textured surfaces.
This label printer can print on self-laminating vinyl, PermaSleeve™ wire marker sleeves, nylon cloth, polyester and indoor/outdoor vinyl label materials. It offers a one-handed operation and a large, backlit display for easy indoor and outdoor reading. Its dual cutter buttons hold the label until you need it, and a multi-function accessory is available with a magnet, flashlight and wrist strap.
Buy 1 Get 1 Free!
View the Brady BMP®21 Label Printer and see what the BMP21 Label Printer can do for you.
Applications of the BMP®21 Label Printer

Wire and Applications of the BMPd cable marking
Patch panels
Control panel and component marking
Workstation labels
Maintenance and engineering
Electrical data communications
Field service and installation
5S/Visual Workplace
Storerooms and tool cribs
Construction
Laboratories
Asset and general ID
Work truck
General labeling
Any smooth, flat, curved, textured, or highly textured surfaces
With more than 400 different label options, the NEW Brady BMP71 Portable Label Printer is Brady's most versatile portable printer. This easy-to-use labeler can help you cut material waste, save label making time, and print crisp labels more efficiently than ever before.
The BMP71 labeler can print on more than 30 types of label materials - including PermaSleeve™ wire markers, indoor/outdoor vinyl, polyester die-cut labels, flag labels, self-laminating wire markers, raised panel labels, and more. Whether you need 1/4" self-laminating wire marker labels or 2" wide vinyl pipe marker labels, this portable label printer can do it all.
Buy 1 Get 1 for 50% Off!
View the Brady BMP71 Portable Label Printer and see what the BMP21 Label Printer can do for you.
Applications of the BMP®71 Label Printer

Electrical
Contractors
Maintenance Repair
General Identification
Aerospace, Defense, Mass Transit (ADM)
Electronics
Safety
Tool Cribs
Warehousing and Equipment Rental
Lean and Compliance
Transportation Equipment
Utilities
Voice and Data Communications
I.T. and Networks
About Zack Electronics
Based in Duarte, California, Zack Electronics Inc. is a leading West Coast distributer supplying products to audio/video, broadcast, and data communications professionals. Zack Electronics Inc. carries thousands of products in Audio and Video, Electronic Chemical and Cleaning Supplies, Computer and Data Networking, Connectors, Electrical and Power, Labeling, Panels, Plates and Patch Bays, Racks, Cabinets & Shelving, Security (CCTV) and Monitors, Tools and Installation Aids, Test Equipment and Accessories, and Wire and Cable. The site is developed especially for those having passion for electronics. Being a leading online retail shop for electronics, it always strives to bring something new and unique to electronics lovers across the globe.