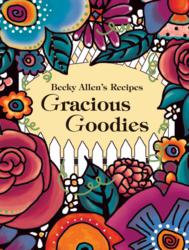 Cooks of every description will love our cookbook which includes 300 classic american kitchen tested recipes.
Boca Raton, Florida (PRWEB) May 31, 2012
"Becky Allen's Recipes—Gracious Goodies," was first published in 2009. The author is a Technical Business Strategist, Web Developer and the President of Media 54 LLC. A new website recently created for the cookbook highlights original writings and articles by the author as well as pictures of Skaneateles, New York, The Finger Lakes Region of Central New York and many important links to places of interest in the area. The cookbook has been used primarily in raising funds for various causes and charities for example; Boca Helping Hands, The Freedom Climb and Haiti Missions.
Jody Allen, President of Media 54 LLC started her business in 2007 after 25 years of work experience in Multi-Media Advertising, Sales and Marketing, Information Technology and Telecommunications. Jody commented to many friends, family members and business associates after her mother died in May 2009, that a cookbook including a story about her mother's life would be a wonderful way to pay tribute to her.
Her family moved to Skaneateles N.Y. in the early 1960's as it was a beautiful, serene setting to raise a family, start a business and live their American Dream. Bill and Becky Allen, Jody's parents started a business in their garage in 1965 and together, planned and built a manufacturing plant in Elbridge, N.Y. to accommodate a growing number of employees and an increase in the production of products.
Their company, Skan-a-matic Corporation manufactured sub-miniature electronics which were used to make automation controls for various industrial applications. The company also worked with fiber optics creating products used in the manufacturing of medical devices. Later they developed new bar code reading technologies and systems for packaging. Remarkably in time, the company headquarters was moved to Boca Raton, FL. and a new facility was built in Deerfield Beach, FL to accommodate the production and manufacturing needs. Many existing employees relocated to this area. A few years later a new manufacturing plant was also created in East Grinstead, West Sussex, UK.
Skan-a-matic Corp. employed more than 500 people in the United States and in Europe at the time that it was sold in 1984. Jody's mother, Becky Allen served as Executive Secretary for Skan-a-matic Corporation, taking on an active role in the company, focusing on human relations, corporate goodwill and public relations. She was an elegant and gifted woman who was cherished for her charming, fun-loving and caring outlook on life. Becky's friends would often say about her, "that her life was far more interesting than talking about the latest books that they were reading!"
Becky and Bill Allen had lead remarkable lives. Whether you love to cook, or simply love to read great cookbooks, Becky Allen's Recipes - Gracious Goodies is the one for you. Becky Allen collected a vast number of recipes over her lifetime for example, homemade tomato juice, jams and breads, eggplant soufflés, various poultry and seafood recipes and delicious desserts. What makes this cookbook unique is that we have included her personal life story. Becky was the daughter of a share cropper who became a successful rancher. She learned to overcome hardships at an early age. Her mother taught her to cook on a working ranch in the Midwest. Becky's personal life history is published inside the cookbook and is filled with 300 classic amercian kitchen tested recipes.
In her later years Becky Allen was a leader volunteer for the American Red Cross, The Salavation Army, Food For The Poor and other non profit organizations. Becky Allen's Recipes—Gracious Goodies, is filled with 300 of Becky's most favorite cherished recipes. The selling price for the cookbook is $19.95 plus a $6.95 shipping and handling charge.
Cooks of every description will love the variety of recipes found within the cookbook. They will also appreciate that pages can be added or removed from the three ring binder. In researching the type of format for the cookbook, seasoned cooks told us that being able to remove a recipe from the binder was an important feature as they could then place the recipe in a plastic bag and set it down where they were cooking. Professional cooks and culinary artists told us that the cookbook represents to them a great resource in which to find delicious recipes guaranteed to provide a memorable culinary experience.
Whether you are looking for the perfect appetizer, fabulous ideas for a meal to prepare ahead of time, or making a meal to take to a friend or function we are confident you will find something new and interesting to prepare in Becky Allen's Recipes—Gracious Goodies. A portion of the sales from the cookbook is donated to worthy causes and charities.
The cookbook is available on the newly created website at: http://beckyallenrecipes.com or on
Amazon.com at the following address: http://www.amazon.com/gp/product/0615337309 or at
Creekside Books, 35 Fennell Street, Skaneateles, New York 13152.