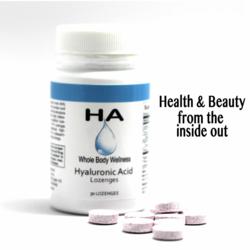 We are thrilled to be able to bring this product to market because it addresses another age old oral care problem for most people
Oregon City, OR (PRWEB) May 31, 2012
Tooth Soap, Inc. announces its latest product today, a pure Hyaluronic Acid lozenge. This lozenge, which is called "HA", fills an important space in Tooth Soap, Inc.'s growing natural dental protocol.
"We are thrilled to be able to bring this product to market because it addresses another age old oral care problem for most people," states Karen Van Cleef, Tooth Soap, Inc.'s Founder and CEO.
Science has discovered Hyaluronic Acid is one of nature's best kept secrets when it comes to the ravages of time. Hyaluronic Acid is the primary component that replenishes, lubricates and protects various tissues of the body. It is so important to the human body that Hyaluronic Acid has been referred to as "Liquid Gold".
"For years, clients have been asking for something to relieve dry mouth and now we really have something for them. With the addition of xylitol in this HA lozenge, not only will this help to hydrate the body, but it may also help to reduce cavities as well", says Van Cleef.
HA, available in a bottle of 30 lozenges is now available for purchase for $24.95 at ToothSoap.com.