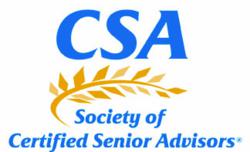 Denver, CO (PRWEB) May 31, 2012
The Society of Certified Senior Advisors announces a new class location for its bestselling Certified Senior Advisor (CSA) course in Hartford, CT June 5-8. The CSA course teaches anyone who works with seniors about the strategies and tactics for working more effectively with the senior customer. CSA courses are held in locations around the country. Find out more at Course Information
Attendees of the CSA education course will gain the knowledge and tools necessary to work more effectively with their senior clients. This course covers why a comprehensive understanding of the unique goals and challenges facing seniors today helps to better serve and protect them. This is an in-depth class with first-rate faculty and rewarding results for both attendees and their senior clients.
The CSA Course will be held at the Hilton Garden Inn Hartford North. Following the at-home study program, the optional live class review will be held over the first 3 days of class. The CSA certification exam is taken on the morning of the fourth day. For more details on the course curriculum and comprehensive study materials, please visit Course Curriculum.
Professionals that take the time to earn their CSA designation know what a valuable investment the course is to both their professional and personal lives. SCSA is always striving to improve the course itself and the benefits associated with being a CSA so that new students and CSAs will have the same enthusiasm and regard for the certification as SCSA's current membership.
Taking the steps to earn the CSA designation is about much more than taking a class and passing a test. Learn more about what it means to be a CSA through our newest white paper "Now That You're a CSA" http://www.csa.us/docs/yourcsaguide.pdf
About SCSA
The Society of Certified Senior Advisors provides free resources and tools for members as an ongoing commitment in helping professionals to understand the complex and dynamic lives of modern senior citizens.
SCSA's mission is to educate professionals to work more effectively with their senior clients. For those who work with seniors, this means understanding the key health, social and financial factors that are important to seniors—and how these factors work together.