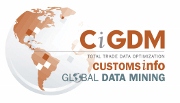 When you feel stressed by big projects with short deadlines, look to us for help.
Eden, UT (PRWEB) May 30, 2012
Sister companies CUSTOMS Info and Global Data Mining LLC (CiGDM) recently conducted a webinar focusing on how trade professionals can save time and improve quality by outsourcing HS classification processes.
When: Available online 24/7
Where: Online. Register to access the webinar at https://www1.gotomeeting.com/register/892431265
Who: Matt Gersper, president and founder, Global Data Mining and co-owner, CUSTOMS Info
What: The outsourcing team from Global Data Mining specializes in trade compliance projects that are too big or that have deadlines approaching too fast for our customers to manage internally. GDM Outsource™ uses our knowledgeable staff and our state‐of‐the‐art systems to get trade compliance work done better and faster. Clients realize improved quality and peace‐of‐mind because they know all project requirements have been precisely defined and are consistently applied to each and every task.
Quote: "When you feel stressed by big projects with short deadlines, look to us for help. We'll put together the perfect combination of staff, systems and data focused on achieving your specific requirements in the most direct, effective manner possible." - Matt Gersper, president and founder of Global Data Mining and co-owner of CUSTOMS Info
Supporting Resources:
Speaker notes, Webinar slides, and Q&A available at: http://www.gdmllc.com/webinars/Default.aspx?webinarId=72
About CiGDM
CUSTOMS Info (Ci) and its sister company Global Data Mining (GDM) help businesses optimize global trade management (GTM) systems and streamline global trade automation. Ci provides the world's most comprehensive trade data repository delivered via web-based subscription, API web services or as data to populate any GTM or Landed Cost application. Ci is the largest provider of duty and tax content for international e-commerce with hundreds of e-commerce sites utilizing our data to provide accurate landed cost information. Our data and services provide faster deliveries and fewer border delays. GDM helps multi-national companies increase the informational value of trade data and the productivity of global trade staff to reduce operating costs, improve customs compliance, accelerate supply chain speed and maximize the return on investment of this corporate function. Areas of expertise include customs classification research, customs auditing and trade data analytics/business intelligence.
Working in conjunction with GTM applications, Global Data Mining and CUSTOMS Info's strategic partners include SAP, Oracle, and other trade software partners. Please visit http://www.customsinfo.com , http://www.gdmllc.com for more information.