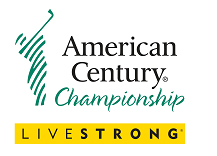 Stateline, Nevada (PRWEB) May 31, 2012
This summer, the most recognizable field in golf takes to the course for the 23rd American Century Championship, July 20-22 at Edgewood Tahoe and the Lance Armstrong Foundation, the organization founded by the cancer survivor and champion cyclist to serve people affected by cancer, is back as the official event charity for the seventh consecutive year. Against the beautiful backdrop of a High Sierra Lake, the global fight against cancer will share the spotlight with the biggest names in sports and entertainment.
"The Lance Armstrong Foundation is honored to be a part of the American Century Championship again this year," said Doug Ulman, Foundation president and chief executive officer. "We are grateful to American Century Investments for their ongoing support, which enables us to increase our outreach to people affected by cancer and improve the lives of families around the nation."
The 2012 tournament provides a platform for fundraising and awareness-building activities in support of the Lance Armstrong Foundation's mission. Thanks to additional prize money generated when former NHL All-Star Joe Sakic made a hole in one at the 2011 American Century Championship, last year's tournament raised more than $470,000, which was split between the Lance Armstrong Foundation and local Lake Tahoe-area charities.
"American Century Investments has a unique story that makes our association with the Lance Armstrong Foundation exceptionally meaningful," said Jonathan Thomas, president and chief executive officer of American Century Investments. "Like Lance Armstrong, our founder Jim Stowers Jr. and his wife, Virginia, are cancer survivors who have devoted their lives to helping combat the world's most dreaded disease. Thanks to the Stowers' generosity and the company's ownership structure, more than 40 percent of American Century profits support medical research that seeks to unlock the mysteries of cancer and other gene-based diseases."
According to Thomas, since the year 2000, American Century's cumulative financial support for lifesaving research is more than $900 million and should crest $1 billion in the near future.
NBC will televise the second and final rounds of the American Century Championship live on Saturday, July 21, and Sunday, July 22. The opening round will be televised on NBC Sports Channel on Friday, July 20. The 54-hole American Century Championship has been played at Edgewood Tahoe's 6,707-yard lakeside course since its inception in 1990.
Defending 2011 champion actor Jack Wagner will be seeking his third tournament win. He will be joined by other past champions including Rick Rhoden, Dan Quinn, Billy Joe Tolliver and Mark Rypien. Long-time tournament favorites Michael Jordan, Charles Barkley, Ray Romano and John Elway will welcome newcomers Donald Driver (Green Bay Packers wide receiver and 2012 'Dancing with the Stars' champion), Christian Ponder (Minnesota Vikings quarterback) and David Justice (New York Yankees and Oakland Athletics).
American Century Investments is a leading privately-held investment management firm, committed to delivering superior investment performance and building long-term client relationships since 1958. Serving investment professionals, institutions, corporations and individual investors, American Century Investments offers a variety of actively managed investment disciplines through an array of products including mutual funds, institutional separate accounts, commingled trusts and sub-advisory accounts. The company's 1,300 employees serve clients from offices in New York; London; Hong Kong; Mountain View, Calif. and Kansas City, Mo. James E. Stowers Jr. is founder of the company, Jonathan S. Thomas is president and chief executive officer and Enrique Chang is chief investment officer. Through its ownership structure, more than 40 percent of American Century Investments' profits support research to help find cures for genetically-based diseases including cancer, diabetes and dementia. For more information visit http://www.americancentury.com.
About the Lance Armstrong Foundation
The Lance Armstrong Foundation serves people affected by cancer and empowers them to take action against the world's leading cause of death. With its iconic yellow LIVESTRONG wristband, the Foundation became a symbol of hope and inspiration to people affected by cancer throughout the world. Created in 1997 by cancer survivor and champion cyclist Lance Armstrong, the Foundation provides free patient navigation services to survivors with financial, emotional and practical challenges that accompany the disease. Known for its powerful brand – LIVESTRONG – the Foundation is also a leader in the global movement on behalf of 28 million people living with cancer today. Since its inception in 1997, the Foundation has raised nearly $500 million for the fight against cancer. For more information, visit LIVESTRONG.org.
LIVESTRONG® is a registered trademark of the Lance Armstrong Foundation.
©2012 American Century Proprietary Holdings, Inc.