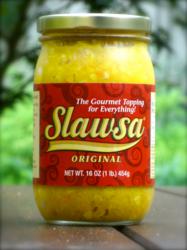 New York, NY (PRWEB) May 31, 2012
Summer is coming up soon and Slawsa is the right topping for any meal. Cook with more flavor and impress your friends, family and fellow foodies by having Slawsa turn a traditional meal into an impressive, savory feast.
Slawsa has become the little darling in the condiment marketplace. This innovative gourmet topping is a must-have for any grilling event to top meats such as hot dogs, brats, hamburgers, pork, and grilled chicken to shrimp, scallops and fish. It is perfect as a zestful spread for sandwiches, wraps and tacos and even great as a dip for tortilla chips. Slawsa is all about options and adds the right amount of flavor to any dish making it colorful, delicious and memorable.
This is a new world condiment that stems from a family recipe. Slawsa has versatile ingredients that are key to making an inspiring and interesting meal. After tasting Slawsa, one will fall hard, and will never go back to using traditional condiments. Slawsa is for keeps in the kitchen, family festivities, holidays or an outdoor gathering.
Slawsa comes from company, Nicole Foods that is dedicated to creating innovative products with a focus on flavor. It is a unique condiment that can add flavor to any dish. The taste is a combination of sweet, tangy with heat undertones and is typically served cold on hot or cold dishes. Slawsa is a unique blend between a 'slaw' and a 'salsa' with a relish-like consistency containing healthy ingredients. It is fat free, cholesterol free, gluten free and contains less sodium than traditional condiments. Slawsa is a gourmet topping that can be purchased from the relish section in stores in the Southeast, Midwest and Central states and via online at http://www.Slawsa.com.
For additional information on Slawsa and store locations, visit http://www.Slawsa.com or 'Like' them on Facebook at http://www.facebook.com/Slawsa and follow them on Twitter @Slawsa.
For press interviews, contact Tamara York of Tamara York Public Relations, email: tamara(at)tamarayorkpr(dot)com.
# # #