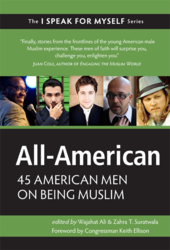 Important, necessary, eloquent and humane, "All-American" is an eye-opening, heartfelt journey through the stupendous diversity of the American Muslim experience. Superb." Junot Díaz, Pulitzer Prize for Fiction recipient
Ashland, OR (PRWEB) May 31, 2012
For far too long, the story of American Muslims has been told by others; rarely do American Muslim men emerge as protagonists of their own narratives, representing their religion or depicted in a way other than as violent extremists, misogynists, and irrational, angry, bearded brown men. That situation is changing with the release on June 1st of "All-American: 45 American Men on Being Muslim."
Although the United States strives to be a place where its citizens are encouraged to coexist and thrive, the practice of scapegoating often prevails, creating unnecessary economic, social and cultural divides. African Americans, Native Americans, Irish, Jews, Italians, and Japanese have all experienced challenges to their American experience. American Muslims are not exempt, often targets of fear-based attacks, while the media and the entertainment industry all too often serve up negative images of Islam's followers.
Recent examples of events that have contributed to this negative narrative include:

The New York Police Department is caught spying on Muslims based on religious activities and without any evidence of wrong-doing.
47% of Americans recently polled said the values of Islam are at odds with American values.
In 2011, 49 bills were introduced in 29 states to ban Shariah law.
41% of Americans would be uncomfortable if a teacher at the elementary school in their community were Muslim.
Co-edited by playwright, humorist, and lawyer Wajahat Ali, "All-American: 45 American Men on Being Muslim" (June 2012, White Cloud Press) highlights voices of an emerging and impactful generation of American men that seek to debunk and re-orient existing narratives of their faith and their community.
The contributors, all under 45 years old, were either born in America or were raised in America from a young age. They are husbands, fathers, brothers, nephews, sons —including a math teacher, a lawyer with the US Army, an emcee and spoken word artist, several comedians, an HBO Def poet, a transgender activist, professors, a doctor, IT consultants, filmmakers, and an architect.
Reza Aslan, best-selling author and American scholar of Islam, has says of the book: "Here is a chance for American Muslims to seize the mic from the pundits and politicians who claim to know what Islam is and what Muslims want, and to speak for themselves about their hopes and aspirations, their trials and tribulations, and, above all else, their unique identity as Americans. At a time when anti-Muslim sentiment is growing in this country, there could be no more vital book than this."
Publishers Weekly gave the book a starred review, noting "this simple, friendly, and necessary book belongs on high school and public library shelves. Would it could be required reading for the half of Americans who have an unfavorable view of Islam."
"All-American: 45 American Men on Being Muslim" is the second volume in the I SPEAK FOR MYSELF series. Volume One, "I Speak for Myself: American Women on Being Muslim" was released in May 2011 and was a Huffington Post Top Religion Book of 2011.
For speaking engagements or interviews contact:
Steve Scholl, White Cloud Press
Phone: 541-488-6415
Email: scholl(at)whitecloudpress(dot)com
http://www.whitecloudpress.com
Publication information:
All-American: 45 American Men on Being Muslim
Edited by Wajahat M. and Zahra T. Suratwala
ISBN: 978-1-935952-59-6
Original Trade Paperback / $16.95 / 256 pages
Published by White Cloud Press, Ashland, Oregon
Distribution: Publishers Group West/Perseus Book Group
About White Cloud Press:
Since its founding in 1993, White Cloud Press has been publishing acclaimed works on World Religions and Spirituality, Ecology, Yoga, Politics, and Memoirs. White Cloud titles and authors have been praised by the New York Times, Publishers Weekly, Christian Science Monitor, Time Magazine, Washington Post, Parade, People, Tikkun, Chronicle of Higher Education and been featured on CNN, Nightline, PBS, CBS Evening News, Good Morning America, National Public Radio, and "The Daily Show with Jon Stewart," among others.
Leaders of thought such as Jimmy Carter, Karen Armstrong, Deepak Chopra, Huston Smith, Queen Noor, Brian Swimme, Cornel West, Alice Walker, Joanna Macy, Jane Hirschfield, Robin Williams, and Cornel West have praised White Cloud Press books.