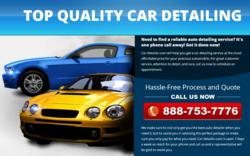 We have a large database of the very best auto dealers that the country has to offer and we work hard to ensure that we provide you with the perfect match for your specific needs
Chicago, IL (PRWEB) May 31, 2012
Car-Detailer.com is a website that works to team-up car owners with high quality and affordable local car detailers in Chicago and beyond. And according to the SEO Service Group, the website is now providing a free, hassle-free quote.
"Car owners can now obtain a free, no-obligation quote at Car-Detailer.com. It is an easy and stress free process that simply involves being connected with a local auto detailer that can provide a complete car-care package at an affordable price," said a company spokesperson.
The service provided at Car-Detailer.com consists of a simple 3-step process:
1. Car owners ring up to obtain a free, no-obligation quote
2. The car owner is then put in contact with a local auto detailer that can meet their needs, and at an affordable price.
3. The car is given the complete auto detailer treatment, which according to Car-Detailer.com leads to "feelings of infinite happiness"
A wide variety of car detailing services are provided at Car-Detailer.com, including interior shampooing, carpet cleaning and replacement, dashboard services, exterior scratch removal, headlight restoration, and much more. And according to Car-Detailer.com, the service from the recommended auto detailers is always "top class".
"The service that our car detailers provide is top class. The car is not just 'cleaned' but given a complete makeover that uses high-end professional products that are specifically designed for car detailing purposes. Nothing that we can say will truly do justice to the services that our detailers provide so we advise interested customers to view our photo gallery to witness the work first hand," said a Car-Detailer.com spokesperson.
The company provides a nationwide service, meaning that car owners all across the USA are able to have their car detailing needs fulfilled.
"Whether you need car detailers in Columbus, Atlanta, Boston, Chicago, Florida or any other State in the USA then we are here to assist!" said a company spokesperson. "We have a large database of the very best auto dealers that the country has to offer and we work hard to ensure that we provide you with the perfect match for your specific needs."
For more information and to view the car detailing photo gallery, visit http://www.car-detailer.com/
About Car-Detailer.com:
Car-Detailer.com works to connect car owners with local auto detailers. Customers looking for a basic service wash or a complete auto detailing service will be able to find the right car detailer via Car-Detailer.com. The company phone lines are open 7 days a week, and car owners are invited to call at any time to obtain a free quote.