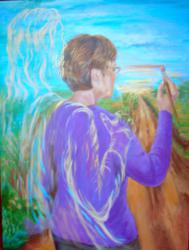 Candis Kloverstrom is a Christian artist on life's journey creating a visual representation of God inspired biblical truths.
Castle Rock, CO (PRWEB) May 31, 2012
Candis Kloverstrom introduces her latest Christian Artwork, "He Has My Back." This is an acrylic painting revealing her relationship with God as a Christian Painter. It depicts herself as a Christian artist on life's journey creating a visual representation of God inspired biblical truths.
She states, "Being a Jesus Artist may be who God created me to be. But, what goes through my paint brush is from Jesus, inspired by Jesus, and is offered back to Jesus."
She also states, "As an artist I connect to the creativity of God. Just look at the world around. If this imperfect world is this beautiful, imagine heaven. And, as an artist I have a new role today expressing biblical truths through my creativity."
The Christian Artist Resource Website asks this, "As a Christian artist, do you create with the awareness of your destiny? Something to think about, isn't it? Perhaps you are eager to fulfill God's plan, yet unsure of how to live it out. God can use your gift and help you create meaningful art."
God's Purpose through Art
"… art is a way of showing, as no other activity can, something about the world's depth and reality. Artists create possible worlds that help people envision (or rebel against) the final shalom God will create when Christ returns to completely renew creation," said Joan Huyser-Honig in the article "The Visual Arts in Worship."
Huyser-Honig further states, "Looking at the world through this creation-fall-redemption-renewal pattern makes every liturgy's final section -the sending -especially important. Renewed in worship, Christians go back into daily life to bring about shalom, according to how God has gifted them."
"… if our whole person is broken, then the worship arts can become a unique way to promote the sanctification of our affective, physical, and imaginative faculties, which are often ignored in Protestant worship. In worship, our emotions, bodies, and imaginations have a vital role, and the arts serve to bring them into an intentional and intensive participation," stated W. David O. Taylor in the Christianity Today article, "Disciplining the Eyes Through Art in Worship."
He also stated, "Our sight is broken and therefore requires training to see God's world rightly. As an act of the imagination, the visual arts can enable us to see the world, for example, not as opaque to God's presence but as charged with it….All of us need this help. The visual arts, by fixing our sight on concrete objects—canvases, sculptures, installations, architecture—invite us to look at the world as it is or maybe as it shouldn't be. At times they urge us to see it as it might be."
About Candis Kloverstrom
As a thirty-three-plus Christian veteran she adheres to Christian fundamentals that God is who He says He is, has a plan for each person, and the power to carry that out. She spent the past twenty years working with various aspects of brand development that included design and illustration connecting target markets through understanding client needs.
She states, "It is that connection that makes a difference in today's world. Visual images have the ability to pass the intellect and stir emotions. When you reach the emotional level, you reach the heart. Jesus wants us to hear and see with our hearts. Relationship with God is a heart issue not intellect. We need to get to the heart to reach people. Art has the ability to do just that."
Candis Kloverstrom also published through Artistic Impact Publishing "Denver Men in the Kitchen," featuring men such as Governor John Hickenlooper, MIX 100 anchor-man Dom Testa, and Denver Business Journal President Scott Bemis. This book went beyond the business suites into personal lives creating an accurate picture of today's successful Denver guy.
For more information on "He Has My Back," go to the web site, http://www.CandisKloverstrom.com.