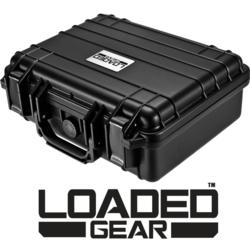 At Loaded Gear™ our passion for innovation is our leading force.
La Verne, CA (PRWEB) May 31, 2012
Loaded Gear™ an innovative new brand of products for today's active lifestyle. At Loaded Gear™ our passion for innovation is our leading force to develop professional grade products and share them with today's active culture. As gear experts, we partner our brand with leading manufactures to drive innovative products. Product designs powered by our industry expert's wealth of knowledge bring concepts from design to market. To develop the best, we collaborate with professional equipment experts in the clothing, sporting goods, photography and consumer electronics industry.
Field-tested, Loaded Gear™ designs go through extensive real life application testing. Military, law enforcement, survival experts and avid outdoor enthusiast make up our quality inspection engineer team. Loaded Gear produces professional gear with designs driven by technology and utility not by a market price point. Find professional Loaded Gear™ products at expert gear outfitters and major retail sporting good stores worldwide. We have the first-hand knowledge of how critical the quality of professional gear can be, that's why we stand behind our product with a Loaded Gear™ warranty and expert customer service.
The Loaded Gear™ watertight hard cases are newly designed by experts to be the best. These new HD series of military cases are designed to protect and store valuable equipment. Designed with edge-to-edge crushproof protection these cases are airtight and watertight. The interiors feature padded layers of customizable pre-perforated cubed foam and layers of egg crate foam case liner to protect valuables from internal movement. Available in several sizes, from compact cases for mobile devices and camera cases to large equipment cases.
Loaded Gear™, a leader in professional sporting good products has also developed the new Loaded Gear™ HD-200 hard case. Built to protect valuable equipment, the HD-200 is an extremely well protected tough case. The convenient size of this strong military case allows it to be transported handheld or enclosed in a standard size backpack or day bag. The HD-200 is a watertight and airtight dry case that protects valuables from moisture damage. For professional equipment transportation the HD-200 protective case is equipped with a pressure equalization purge valve. To secure the cases contents, two padlock mounting points are on the corners of the case (case padlock and TSA lock sold separately).
Loaded Gear™ is a proud U.S.A brand, based in southern California, we employee gear experts from around the world. With design and corporate offices in La Verne, California, Loaded Gear™ is an internationally distributed brand. To find a Loaded Gear™ retailer or to become an official Loaded Gear™ outfitter call us at: 1-888-666-6769 x 141. The Loaded Gear™ trademark is a division of Micro World Corporation. For detailed information on all Loaded Gear™ products visit: http://www.loadedgear.com