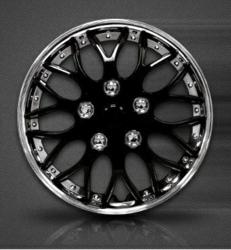 Hubcaps... the new wheel lingerie.
Aventura, FL (PRWEB) May 31, 2012
Innovative online car accessories startup mAuto Store is about to kick off its next campaign. Releasing its second product launch in as many months, the spunky online retailer is ready to take its brand of automotive passion to the streets with a stunning line of hubcaps. The company that is fast becoming known for its boldness and ingenuity will roll out its new campaign May 31st, 2012.
CEO and Founder Lester Mapp admits they are not trying to reinvent the wheel but his company plans to cover up naked wheels everywhere. The launch of mAuto's hubcaps is expected to attract the same enthusiasm that was sparked by the recent launch of its sunshades.
This new product line has given mAuto Store an ace up its sleeve. So what's all the fuss about? It's not the average wheel cover. The hubcap has long been the boring, generic cousin to the rim. Well, what if rims had identical quadruplet cousins. Apart from being lightweight and less expensive, these hubcaps make people think that they're rims. What could be cooler?
Now there is nothing wrong with buying rims but there is a definite thrill in knowing there is a product that could stand toe to toe with the rim. They are equally matched in design, sexiness and wow factor. The big question is whether the new "wheel lingerie" will push rims right off the track.
Every car should scream to the world that its owner is successful. Now if the owner of that car prefers the message to be subtle there is more than enough variety of choice with hubcaps to make that happen.
Are automotive accessories suddenly the in thing? As a matter of fact, it seems that people can't get enough of them. This startup seems to be making a big difference by taking its product line in a totally new direction, to the apparent delight of its clients thus far.
It's safe to say that mAuto has charted a new course for itself and by all indications it's not slowing down. The company has mastered the art of turning a simple product into the object of someone's obsession.
mAuto Store is an online car accessories retailer and manufacturer based in Aventura, Florida. The company offers a unique online shopping experience for clients