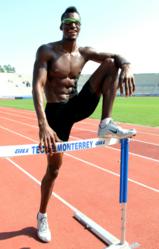 Max could be the healthiest bioactive beverage on the planet
(PRWEB) May 31, 2012
Morinda Bioactives (formally Tahitian Noni International) released a new product called Thrive Adaptogenics Max at their April 2012 International Leadership Conference in Salt Lake City, Utah. Isa Phillips, Jamaican 400 M Hurdler, was one of the few lucky people to try the product before it was released. Even without knowing beforehand what the product would do, Isa saw benefits within the first few weeks of using the product.
"Max could be the healthiest bioactive beverage on the planet," said Isa Phillips. "I am currently in full, focused training for the London 2012 summer games, and I already feel an increase in my workout pain barrier and fatigue threshold. I have improved stamina, strength, and endurance, when compared to my training in the past."
Of all of the Thrive Adaptogenics products, Max offers the highest level of iridoids from the widest range of sources. It's this proprietary blend of noni, blueberry, olive, and cornelian cherry that makes Max the most powerful adaptogenic supplement on the market today. John Wadsworth, president of Morinda Bioactives, stated, "If we knew in 1996 what we know now, we would have launched the company with this as our flagship product."
Max dramatically improves health and protects against many of today's biggest health concerns. These bioactives are scientifically proven to work in harmony with the natural chemistry of the body, helping to balance key chemicals that support the healthy function of physiological systems.*
The bioactives in Max help:*

Protect against premature aging
Promote healthy angiogenesis1
Support circulatory health
Maintain healthy cholesterol levels already within the normal range
Support healthy inflammatory response
Optimize the immune system
Fight free radicals
Enhance healthy brain function2
Boost endurance and sustain energy
1-Initial research suggests that Max may promote healthy angiogenesis by reducing intracellular oxidative stress
2-Initial research suggests that the bioactives in Max may sustain healthy cognitive function by increasing antioxidant activity in the brain
Thrive Adaptogenics uses the power of natural bioactives to deliver a remarkable range of health benefits—without unwanted side effects. These bioactives are sourced naturally from potent, validated, medicinal plants. They are never isolated, modified, or synthesized. For more information visit http://www.morinda.com
About the Company
Morinda Bioactives (formally Tahitian Noni International) is a global, research-driven bioactive products company that was the first to introduce the health benefits of the noni plant—a bioactive-rich, adaptogenic plant, containing iridoid compounds—to the world outside of Tahiti. Morinda Bioactives is the leader in the discovery, development, manufacturing, and marketing of noni-based bioactive products including nutritional supplements, beauty, and weight loss lines. Headquartered in Provo, Utah, Morinda Bioactives is the world-wide leader in bioactive supplements.
*These statements have not been evaluated by the Food and Drug Administration. This product is not intended to diagnose, treat, cure, or prevent any disease.