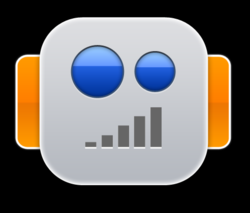 Houston, TX (PRWEB) May 31, 2012
appsbar.com has recognized "Rig Wives" as the appsbar App of the Day after Digi stumbled across it while searching for an app for the hit VH1 show "Mob Wives."
While Digi was crestfallen at first, he couldn't have found a better organization to support and immediately downloaded the app. Rig Wives is an organization of women who have joined together to create a fund designed to help Families in the Oil & Gas Industry and is currently in the progress of becoming a non-profit.
All money received through purchases and donations will be used to assist industry families in times of need. The app also provides 'wives' with a community where they can receive support, encouragement and laughter from other users. Free to make, this app is a secure venue for ladies who understand what other rig wives are going through and can offer a sense of peace in knowing they are not going through it alone.
Where the app can be downloaded for free:
Google Play
Why Digi likes it:
While Digi is disappointed he doesn't have an app strictly dedicated to Big Ang, he is happy that the makers of "Rig Wives" were able to create such a useful app. Made with appsbar, this app was free to make using appsbar's iPhone app builder, Windows app builder or Android app builder, and even better, it's free to download.
How anyone can make an app:
Simply join the community with an email address and get started on an app. Digi, our loveable robot app coach, is there to help at each step.
About appsbar:
http://www.appsbar.com was launched in 2011 to fill the gap between over-simplified apps and costly, professionally-produced apps. appsbar.com apps each average 500 to 1,000 downloads within the first day of being published. In 2012, appsbar became the leading developer of Android apps with more than 10,000 published. appsbar was developed by Appsbar Inc., a company founded by Scott Hirsch. appsbar has grown to a community of everyday app developers and opened the way for businesses and people to engage with friends and brands online through the development of customizable digital tools. For company contact information and partnership opportunities, visit http://www.appsbar.com
For More information:
Caitlin Cox
PR(at)appsbar(dot)com