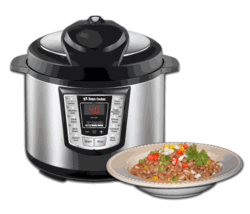 The EZ Bean Cooker is foolproof, and it saves so much time.
Denver, CO (PRWEB) May 31, 2012
EZ Bean Cooker, LLC has developed a convenient and time-saving kitchen appliance to cook dry edible beans. The EZ Bean Cooker features preset bean variety buttons for ease of use and quick cook times; many recipes are completed in less than 60 minutes. The EZ Bean Cooker makes a great gift; from now until June 15, 2012 EZ Bean Cooker, LLC is offering free shipping for Father's Day by using the coupon code: DadLovesBeans.
The EZ Bean Cooker is a small, electric kitchen appliance that uses pressure cooking technology to cook dry beans quickly, with no presoaking necessary. Simply add ingredients to the cooker, select the preset bean variety button, push "Start" and walk away. The EZ Bean Cooker cooks most beans in 60 minutes or less. With a simple recipe book that features one-pot meals, the EZ Bean Cooker is an essential kitchen appliance for busy families, people interested in healthy meal options and those that just love beans.
Numerous customer reviews of the EZ Bean Cooker echo the product's main benefits: easy to use and quick cook times. One customer, Christine, stated, "We love this! The EZ Bean Cooker is foolproof, and it saves so much time." While, another customer, Judy, affirmed, "Wow…the best ever, I don't have to remember to soak my beans overnight. Great investment, every home should have one. Never seen beans cook so fast…" Customer feedback shows that people are extremely pleased with the EZ Bean Cooker and its simple and fast cooking method.
Dry beans are a popular food because they are high in nutritional value, versatile and economical. Many studies have supported their health benefits and have encouraged people's increased consumption of dry beans. Prior to the launch of the EZ Bean Cooker, it seems the only downside to dry beans was their time consuming preparation. With traditional cooking methods people had to plan ahead; most dry beans require soaking in water for hours or even overnight, followed by hours of cooking on the stove or in a slow cooker. What was once time consuming and tedious has been turned into something as easy as pushing a button and walking away. With the EZ Bean Cooker, there is no need to plan ahead and no presoaking necessary. The EZ Bean Cooker requires no prior cooking knowledge; someone who has never cooked dry beans before will have the same great results as someone who has been cooking them for years.
By offering a time-saving, affordable and simple to use product, the EZ Bean Cooker provides people with an easy way to be healthy and eat more nutrient-rich beans.
EZ Bean Cooker, LLC was founded in January 2011 in Colorado and introduced the EZ Bean Cooker to the U.S. market in the fall of 2011. For additional information on the content of this release and the EZ Bean Cooker, please contact Meghan Walker or visit http://www.ezbeancooker.com.
Meghan Walker, National Sales and Marketing Manager
EZ Bean Cooker, LLC
1-800-392-3261
http://www.ezbeancooker.com